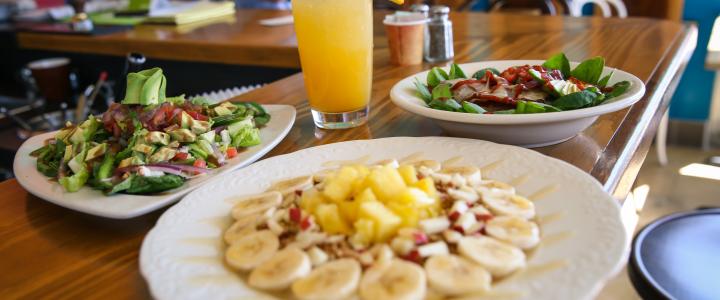 From sunup to sundown, we are of the opinion that a plate of eggs and home fries, with a side of delicious, shimmering bacon, is always an appropriate meal, and an ice-cold Bloody Mary is perfect for any time of day. When it comes to food, all things brunch are near and dear to our hearts here in Virginia Beach -- and for good reason. We have mouthwateringly delicious brunch options. From the calm waves of Chesapeake Bay  to the windswept dunes of the Oceanfront, here are a few of our favorite options to wake up to.
Bay Local Eatery
Bay Local has been a local favorite since it first set up shop in the Chesapeake Bay District. In fact, the love grew so quickly, they've now opened a second location near the Resort Beach. You can't go wrong with any of their Bennies, but we are partial to the Crab Cake Bennie for its fresh local flavor. Of course, washing it down with a softshell crab-topped Bloody Blue or a fresh-squeezed orange crush is an absolute must. And don't miss out on the parmesan tots!
Citrus
Just like Bay Local, Inland's Citrus is flipping their flapjacks out of two locations, and they're doing it with style. Once featured on Food Network's "Diners, Drive-ins and Dives," this has been a favorite of locals and visitors alike. Try the "Citrus Style Pancakes" for a fruity take on a brunch staple. Their signature Bloody Mary with an Old Bay rim will make for the perfect brunch pairing.
Anchor Allie's Bistro
Step back in time to our country's Golden Era with brunch and a morning cocktail at the vintage naval-themed Anchor Allie's Bistro, with two locations, Chesapeake Bay District and Town Center. For a unique take on an omelet, we recommend their Bridge "Bomblette," which combines seasonal local berries with creamy brie and a drizzle of honey, making for the perfect combination of sweet and savory. Their breakfast cocktails change regularly, but we have yet to try one we haven't loved!
Java Surf Cafe
Java Surf, located at the Oceanfront, is a great spot for everything from a fresh cup o' Joe to brunch fit for King Neptune himself. With their focus on locally sourced, organic ingredients, Java Surf is about as fresh as it can get for your mid-morning grub-fest. The open-faced bagel melts are a go-to for us. Try "The Lighthouse" and experience meat and cheese Nirvana topped with the sweet and spicy kick of Sriracha. How can you go wrong with that? To keep the theme of freshness going, there's just something about their fresh-squeezed OJ that keeps us coming back for more!
Whether it's the bacon, the booze or the top-notch spots putting out the amazing food, VB is a city of beaches that brunch. So, let's raise our Bloodys high and toast to our favorite meal of the day. Happy brunching!