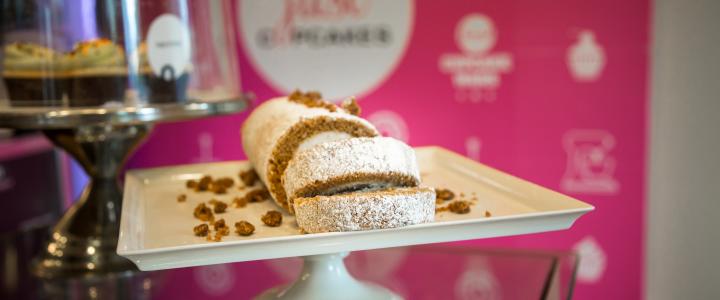 With Thanksgiving just around the corner, we couldn't be more excited to celebrate the tastiest holiday with a sweet treat made right here locally.
We stopped in with Carla Hesseltine, owner and baker at Just Cupcakes at Town Center, who showed us how to make one of her family's favorite desserts. Her pumpkin roll with a cream cheese filling and pralines is made with local pumpkin and is as fun to make as it is to eat. 
Just Cupcakes has been featured on the Food Network's "Cupcake Wars" and with their small-batch gourmet cupcakes, baked fresh daily, the treats here are as visually delightful as they are delicious. Their huge flavor selection is updated weekly, and it's really hard to go wrong regardless of what you choose. It's no wonder this has become a go-to for us during the holidays. While you'll definitely want to stop by next time you're in town, this is one recipe that you'll want to try ASAP.
So, don't fill up on turkey and stuffing this year. This pumpkin roll will be the cherry on top of your holiday feast!
Just Cupcakes Pumpkin Roll Recipe