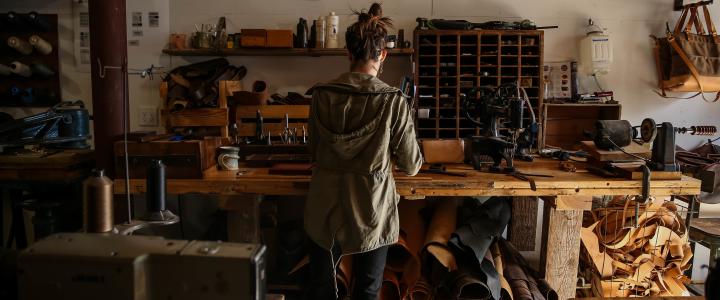 For some one-of-a-kind local flair to take home after your visit, there is no better option than buying handmade gifts. With artisans of all varieties specializing in everything from pin-striping to leatherworking, the ViBe Creative District has the goods for a truly unique and long-lasting memento that only Virginia Beach can provide.
For custom, hand-painted signs and pin-striping, check out Igor's Custom, a local favorite, whose work is found all around town. His designs are done the old-school way, so you won't find any computers in his studio. To have something personalized, just stop in and tell him what you want. You won't regret it! Located next door to Igor's, North End Bag Company is crafting handmade leather bags from scratch, using a variety of multi-era vintage sewing machines. From when the design is sketched to when the sewing machine whirs to a stop, no detail is overlooked in building these timeless and sturdy bags. Whether you use them to hold your wet swimsuit or stuff them with sand dollars straight off of the beach, these bags are built to last on your next beach adventure. A short walk away, local artist and owner of Onietonie Designs, Troy Summerell, is cranking out art that is uniquely VB. Working out of Studio 17, a can't-miss building that he painted by hand, Troy is best known for his aquatic-themed surfboards and designs that are transformed into marine mammals, in addition to his large, public art displays.
To buy handmade is to invest in a work of art, as well as in the artist who created it. The process may move a little slower but, in Virginia Beach, that's just the way we like it.