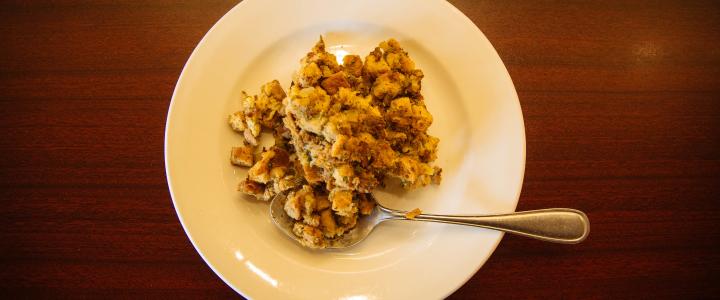 For this year's Va Beach-Inspired Thanksgiving recipe, we checked in with Chef David Hannah of Stoley's Restaurant to see how he makes his sausage and herb stuffing using house-made sausage and locally-sourced ingredients. Check out his recipe below to add this mouthwatering local take on the classic side dish to your holiday menu. Happy Thanksgiving!
Sausage and Herb Stuffing Recipe
8 cups seasoned store bought bread cubes
4 ounces unsalted butter
1 ½ cups diced yellow onions
1 cup diced celery
¾ cup chopped cremini mushrooms
1 tablespoon chopped garlic
1 pound ground Italian sausage
3 cups chicken broth
1 egg beaten
1 tablespoon fresh chopped rosemary
1 tablespoon fresh chopped sage
¼ cup fresh chopped parsley
½ teaspoon salt
½ teaspoon black pepper
Preheat the oven to 350°F. Grease a Place the stuffing cubes in a large mixing bowl. 9 x 13-inch baking dish with butter. In a large sauté pan, melt the butter. Add the onions, mushrooms, and celery and cook over medium heat, stirring occasionally, for about 8 minutes, or until the vegetables are soft. Add the garlic and cook 2 minutes more. Add the vegetables to the stuffing cubes. In the same pan, cook the sausage over medium heat for 8-10 minutes, until browned and cooked through, breaking up the sausage with a metal spatula while cooking. Add the browned sausage to the bread cubes and vegetables. Add the chicken broth, egg, rosemary, sage, parsley, salt, and pepper to the bread cube mixture and mix until the bread is soft and moistened. Transfer the stuffing to the prepared baking dish and bake for 65-75 minutes, uncovered, until deeply golden and crisp on top.