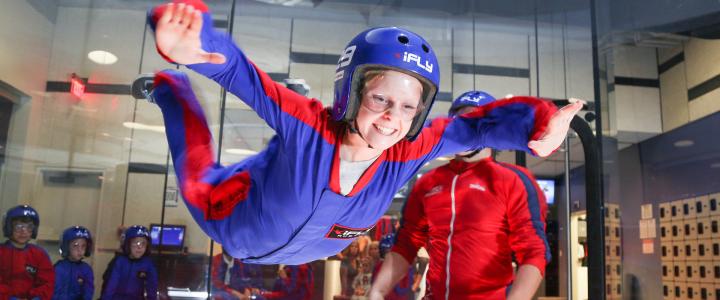 Who hasn't had the desire to fly? That thrill is precisely why we're so excited for our newest attraction, iFly Virginia Beach!
Located at the Resort Beach, just a block away from the Atlantic Ocean, you can now experience the adrenaline of skydiving without having to jump out of a plane. The state-of-the-art and mega-powerful vertical wind tunnel helps create variable wind speeds in excess of 180 mph, providing you with the sensation of a free-fall, as trained instructors guide you through a variety of fun maneuvers. The adrenaline-filled experience is fun, challenging and exciting for thrill-seekers ages three to 103 and is even realistic for trained skydivers, many of whom use iFly as a training ground for improving their skills and tricks. The venue also serves as a training spot for military personnel – how's that for a realistic skydiving experience?
Packages are available for frequent iFlyers and private event space makes for a uniquely fun group gathering, too.