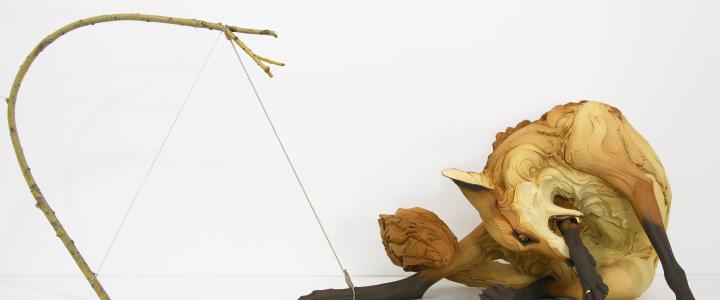 When America's top-ranked art publication magazine, Hi-Fructose, joins forces with the Virginia Museum of Contemporary Art (MOCA), a once-in-a-lifetime VB experience awaits.  MOCA's newest exhibit, "Turn the Page: The First Ten Years of Hi-Fructose," will be an unprecedented exhibition highlighting the foremost contemporary artists of our time, spanning a 10-year retrospective of Hi-Fructose magazine.
The exhibit is the ultimate collaboration of two like-minded organizations and will bring the works of approximately 51 contemporary artists, including Olek, Beth Cavener and Wayne White, from the pages and computer screens of the magazine to the halls and walls of a museum dedicated solely to the art of today. Featuring painting, sculpture, installation, ceramics and photography, the multi-faceted exhibition will cover a variety of artistic media that only truly come to life when you see them up close and in person. With a wide selection of educational programming, film screenings, artist talks and master classes, the exhibition will invite visitors to not only see the art for themselves but also interact with the artists and learn what goes in to creating a modern-day masterpiece.
With diverse and ever-changing displays, every visit to the museum provides a new perspective. "Turn the Page" will be at MOCA beginning May 22 through December 31, so be sure to stop in and experience these works of national acclaim while you can!
*Photo credit: Beth Cavener, Trapped, 2015. Stoneware, paint, 18k gold, wood, rope. 21 x 37 x 22 inches. Private Collection.