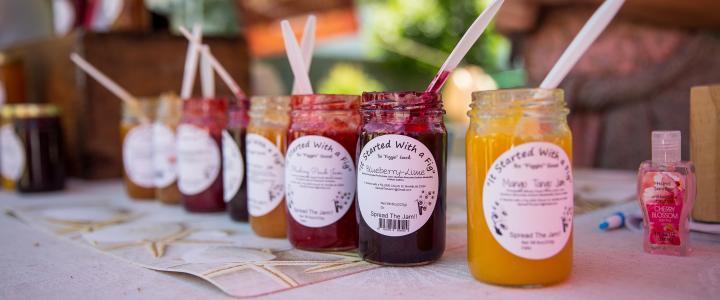 What is it that gives a city character? At the core of all of our favorite places, beyond the buildings and the beaches, is a human element with which we connect on a deeper level. From the sense of community and local customs, to the taste of the homegrown food and the artistry of the area's craftsmen, the true sense of a destination is determined by the people who built it. Every Saturday morning during the summer months, in the heart of the Virginia Beach resort area, many of those who are helping to shape the culture of our city gather in one place, embodying the true character of VB for locals and visitors alike. 
The Old Beach Farmers Market is a homegrown, year-round outdoor marketplace, set up just down the street from the boardwalk, which takes place every Saturday in the summertime. From seasonal fruits and vegetables pulled straight from the Virginia Beach soil, to freshly caught seafood, eggs, coffee, handmade leather goods, soaps, jams and everything in between, the farmers market is connecting locavores with the area's family farms, watermen, chefs and businesses for a celebration of all things VB. Since it began in 2008, the market, operating out of the parking lot of Croc's 19th Street Bistro in the ViBe Creative District, has helped launch many of the area's staples. Local favorites, such as Three Ships Coffee, The Stockpot and North End Bag Co., all got their start by setting up shop at the Old Beach Farmers Market, where they had the chance to connect with the community every week. While the vendors vary from week to week, the market always presents the best of VB. Whether it's a loaf of freshly baked sourdough bread from Chef Rodney at Terrapin Restaurant or a sample of a Virginia wine, everything you will find is sure to please.
In the early hours of a warm Saturday morning, the heartbeat of our city grows a little louder. The Old Beach Farmers Market offers more than just the usual farmers' market experience. It offers a glimpse into the soul of Virginia Beach.