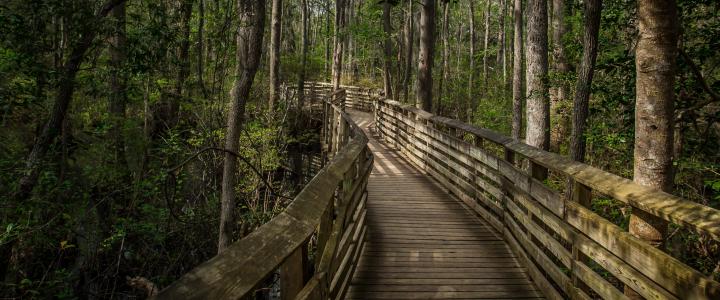 Life moves quickly. With phone calls to answer, meetings to attend and emails to write, sometimes it seems impossible to put life on hold and get away from it all. The faster the train is moving, however, the more important it is to get off from time to time and explore the world outside the tracks. With over 4,000 acres of parks and national refuges, as well as 120 miles of waterways, Virginia Beach offers the perfect opportunity to get away from your desk and get back in touch with nature.
Abutting up to the Chesapeake Bay, First Landing State Park offers a park experience that is hard to find anywhere else in the world. With 1.25 miles of beachfront and more than 19 miles of hiking trails through protected salt marsh habitat, freshwater ponds, dunes, tidal marsh and cypress swamp, the moss-covered park can transport you to another world entirely. On the south side of the city, in the barrier islands of Sandbridge, the Back Bay Wildlife Refuge provides habitat for a wide assortment of East Coast wildlife. Hike one of the many scenic trails, kayak in the freshwater marshes or make your way even further south by foot, boat or tram to the breathtaking False Cape State Park. With over 300 species of nesting and migratory songbirds, shorebirds, otters, white-tailed deer, red fox and even bald eagles, feral pigs and wild horses, the seemingly sleepy seaside sanctuary is abuzz with life and ready to be explored.
The maritime forests, miles of unspoiled beaches, salt marshes and extensive ocean-to-freshwater bay habitats of Virginia Beach's parks and wildlife refuges provide a serene and unique way to relax and reconnect with the world outside your office window. That report on your desk can wait.