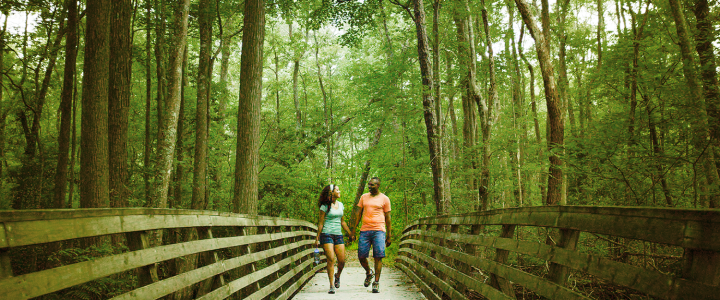 Fall might just be our favorite time of the year to explore our beautiful surroundings by foot. Whether you're into invigorating hikes, adventurous trails or breathtakingly scenic routes, our state parks, wildlife refuges and miles of beaches are sure to have you craving outdoor adventure.
At First Landing State Park, you can hike through seven distinct ecosystems, like a seasoned explorer! In fact, this registered Natural Landmark was the site of the settlers' first landing in 1607 and has since become Virginia's most visited state park. Walk along 1.25 miles of beachfront and stop to take in the beauty of dunes, tidal marsh and the maritime forest, or follow 19 miles of interpretive hiking trails through protected habitats, including one of the most endangered habitat types in the world, the maritime forest community. Pick a different trail within the 2,888-acre park, and you'll encounter a different scene, from freshwater ponds and Spanish moss to stunning views of the Chesapeake Bay.
Farther south, the Back Bay National Wildlife Refuge provides incredible scenic hikes along several trails that cross through dunes, woodland, marshes and ocean beaches. Given its remote location, the park has become a haven for loggerhead sea turtles, peregrine falcons and bald eagles, all of which you'll have the opportunity to encounter as you explore the 9,108-acre refuge – a local's favorite! Feeling extra adventurous? Hike through the refuge to reach False Cape State Park, only accessible by foot or by boat. Featuring six miles of pristine beaches, the park is a wildlife watcher's delight, with a snow geese population of 10,000, among more than 300 species of other birds.
Which trail will you take?