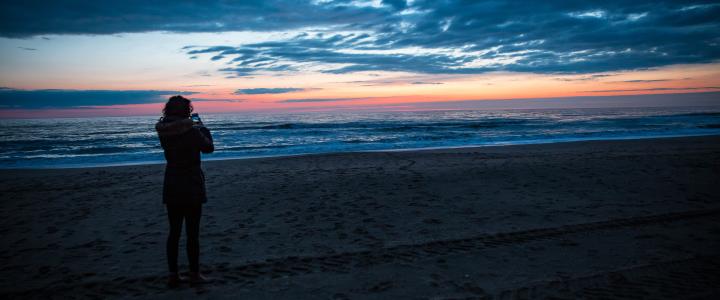 Out in the distance, where the glimmering water meets the restless sky, the day comes and goes like the undulating tide. To see the sun rise over the Atlantic Ocean and set over the Chesapeake Bay, in the same day, is an experience that is uniquely Virginia Beach, and we have some of the best hush-hush spots for catching them both.
A sunrise in Virginia Beach is a sight you won't soon forget. With the world still sound asleep, the show is about to begin - and you have a front-row seat. Watch through the dancing sea oats on the dunes of Sandbridge, as the waking sun glistens on the morning surf. If you're in the resort area, beat the rush of the day's first beachgoers and take in the colors of the dawn behind King Neptune or on the Virginia Beach Fishing Pier. For a hidden-jewel-of-a-view impeded by nothing but the horizon, head to Rudee Inlet, drop a paddleboard or kayak into the water and experience the daybreak by floating right up to it.
As dusk approaches and the lazy sun slinks lower in the sky, make your way to the bay area. Pack appetizers with friends and make your way out to the Chesapeake Bay Beach to relax as the last beams of sunlight disappear from view over the water. For dinner and a show, head out to the celebrated Chesapeake Bay Bridge Tunnel, where you'll find Virginia Originals & Chesapeake Grill. Ask for a window seat for an uninterrupted and unbeatable vantage point while you dine. Or, if you're feeling adventurous, rent a campsite at First Landing State Park and take in the spectacle fireside. How cool is that?
No matter where you choose to view them, enchanting sunrises and sunsets in Virginia Beach will take your breath away. Whether you're just waking up or your night is about to begin, slow down and take it all in. You'll be glad you did.