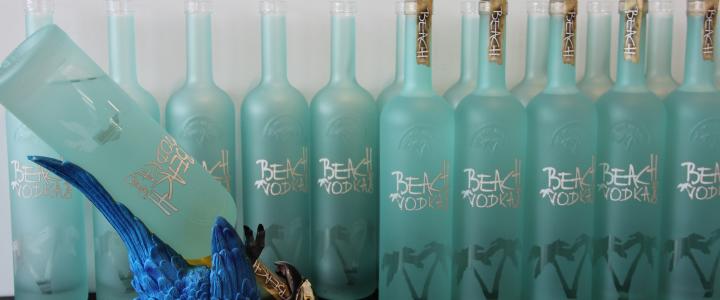 Housed within a building that many locals remember as an iconic surf shop, Chesapeake Bay Distillery has made a move to the Resort Beach after ten years, with something up their sleeve – the first vodka tasting room in Virginia Beach!
Featuring locally sourced ingredients, Blue Ridge Vodka, Beach Vodka and soon-to-make-a-comeback Chick's Beach Rum are the locally distilled spirits crafted to perfection and personally bottled one by one at Chesapeake Bay Distillery. Blue Ridge Vodka was their very first production and was where it all began eleven years ago. With continuing experimentation and creative crafting, Beach Vodka came to life in 2014. Beyond the tasting room, you can find these smooth spirits in select ABC stores throughout Virginia and North Carolina.
Indulge your palate in the tasting room by tasting each vodka on its own or choosing up to four shooters (flavors change seasonally) to enjoy in the tasting room. This season, you can choose among Ghost Pepper (which definitely has a spicy kick), Cranberry, Lemon Drop, Bloody Mary and Apple Pie (a personal favorite that tastes like dessert!).
Ready to give it a shot? If you're feeling spirited, you can buy a bottle to-go, too. Cheers!