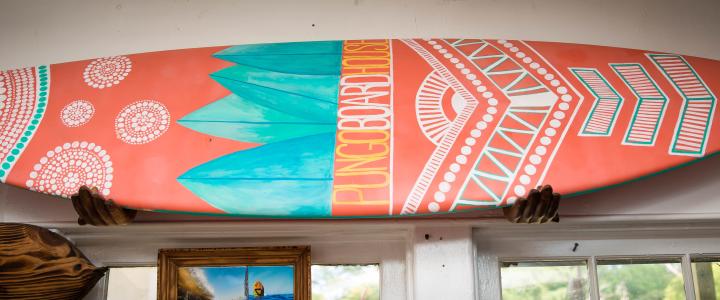 While our surf and sand are well-known, the rich surfing culture of VB past and present can come as a surprise to those visiting our city for the first time. From the abundance of local surf shops and board shapers to the annual East Coast Surfing Championships at the Resort Beach, the sport of surfing is deeply engrained into the fabric of how we live the life year-round here in Virginia Beach.
Depending on the season, the swell may not always match the intensity of some of the surfing hotspots on the West Coast, but scoping out the ideal conditions in Virginia Beach has become an art form in its own right. As many of our resident wave-riders will tell you, riding the perfect wave here comes at the cost of patience, tenacity and a little bit of luck – and that's just how we like it. For those hopping on a board for the first time, Virginia Beach often offers the right conditions to safely ease into the action. If you are serious about honing your craft, many lessons and camps are offered at the Resort Beach and Sandbridge Beach, which will help you dive into what it takes to ride that East Coast wave. Local surf shops like Pungo Board House, Surf & Adventure Co. and VB Surf Sessions offer everything you need, from equipment rentals to surfing lessons and camps, that will have you upright and in the water in no time.
Considered by many to be the birthplace of East Coast surfing, the spirit of surfing runs deep in Virginia Beach. Whether you're a novice, a "grommet" or a seasoned pro, catching one of our swells is a VB experience you need to try.