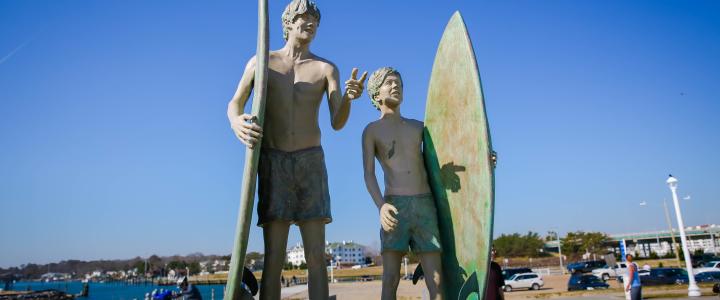 The Resort Beach offers unique photo opportunities just about everywhere you look. From the white foam of the ocean's tide washing ashore our pristine beaches, to the diverse mix of hotels, restaurants and local shops, you're bound to find what you are looking for no matter where you point the lens. While the 24-foot, 12-ton bronze King Neptune statue, by sculptor Paul DiPasquale, is a selfie staple, don't miss out on these other works of art throughout the resort area.
Anticipation - Richard Stravitz, 2010. JT's Grommet Island Beach Park
Mallards - David H. Turner, 2006. Between 11th and 12th Streets
Monument to Naval Aviation - Michael Maiden, 2006. 25th Street
Norwegian Lady - Ornulf Bast, 1962. 25th Street
Delight - Mike Cunningham, 1992. 33rd Street
Virginia Beach Law Enforcement Memorial - Paul DiPasquale, 2012. 35th Street
The Wave - Jeff Laramore, 2013. Laskin Gateway roundabout
Tidewater Veterans Memorial - Joseph A. Miller, 1988. Virginia Beach Convention Center
Along the boardwalk, from First Street to 40th Street, incredible talent is on display all around and these sculptures are always ready for a close-up. Just point, click and say "cheese!" Be sure to tag your Resort Beach selfies with #vbresortlife.