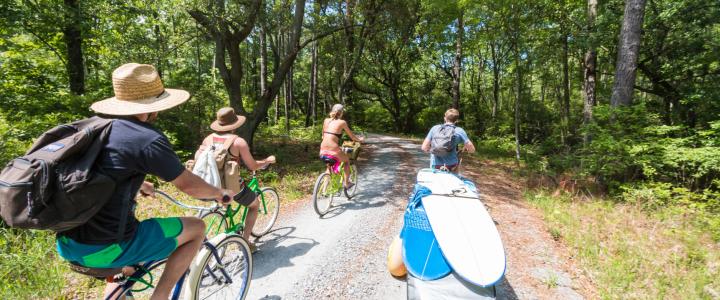 With dancing sea oats, a soundtrack provided by nature, and a distinctively local vibe, Sandbridge is a secluded hideaway that is a perfect place to get away with your family for a relaxing beach vacation. With Little Island Park, Back Bay Wildlife Refuge, and False Cape State Park are all within walking or biking distance, as well as popular food spots, and access to unlimited outdoor adventures, this is a great place to go to leave the real world behind you. 
Located a short drive south of the Boardwalk, Sandbridge is a relaxing and peaceful community where you can truly slow down and unwind on your vacation. Here are some of our favorite ways to live it up while we're here.

Vacation Rentals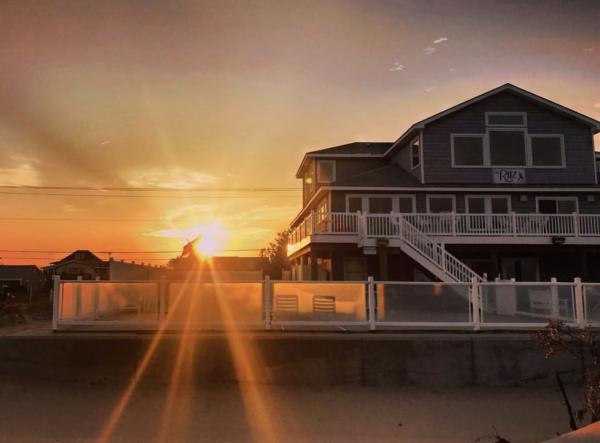 @cammy_huston, Instagram
Sandbridge is the hub of vacation rentals and condos in Virginia Beach. From quaint beach houses to ocean-side retreats, luxury condos and everything in between, Sandbridge offers a variety of stunning beach house rentals for families of all sizes. Rental companies like Sandbridge Realty and Sandbridge Blue have everything you need from vacation specials, pet-friendly accommodations, and premium rentals for all budgets and family sizes. While waking up on a vacation is an experience we all treasure, add to that the site of a serene sunrise over the ocean from the deck of your own beachside bungalow, and this will be a vacation you truly remember.
Kayaking and Stand-up Paddleboarding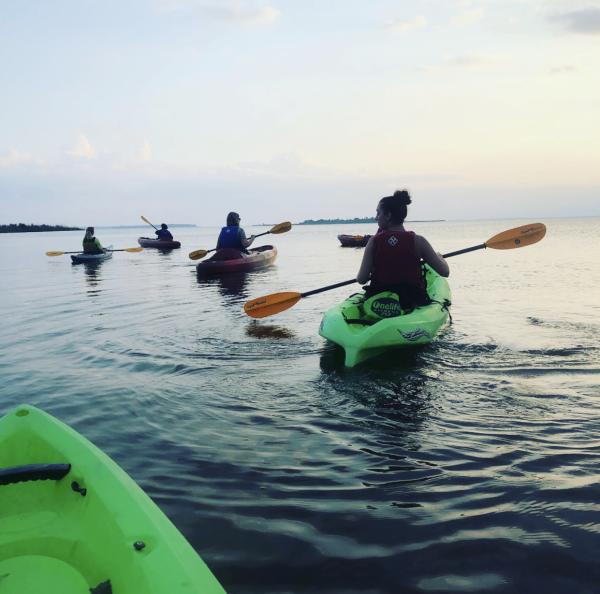 @_teresa_rios, Instagram
The unencumbered beauty of the Back Bay makes it one of our favorite places to explore by water. For a tasty excursion, don't miss Surf and Adventure Company's Blue Pete's Dinner Tour, for an unforgettable kayaking experience. The tour takes you through the enchanting Spanish moss-adorned bald cypress trees of the Back Bay Wildlife Refuge to Blue Pete's, a popular Pungo staple since 1972, for an unbeatable seafood dinner. Surf and Adventure provides all of the equipment so all you have to do is show up and hop in.
Surf and Adventure Company offers guided kayak and paddleboard tours of both Back Bay and the Atlantic Ocean. While beginners are welcome on the bay, the ocean tours, launching at Little Island Park, do require experience.
Camping and Hiking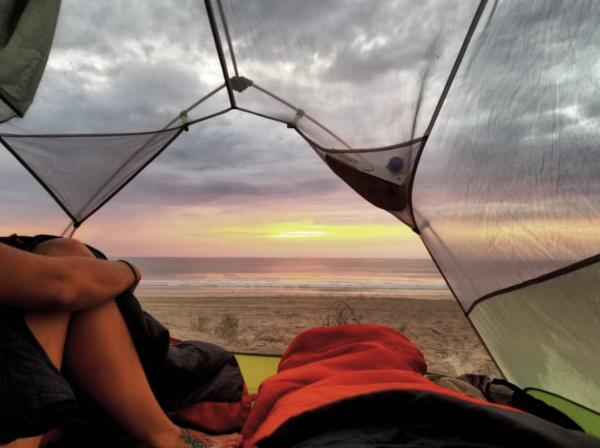 @adventure_threads, Instagram
Located in southern Sandbridge, False Cape State Park is a mile-wide barrier spit between Back Bay and the Atlantic Ocean offering primitive beachfront camping, where you can camp in near complete isolation right on the beach. With no public vehicle access, False Cape can only be reached by hiking, biking, small boats, or the park's beach transport and tram services, through the neighboring Back Bay National Wildlife Refuge. From where you will park your car, at Little Island Park, the hike to the campsites is anywhere from five to nine miles, depending on where your specific site is, so you'll want to pack light. The park has 12 campsites for tent-only camping and, while they are very primitive, drinking water is offered in three locations.
With 15 hiking and biking trails, varying in length and ranging from easy to difficult, there are many ways to explore one of the last remaining undeveloped areas on the east coast. The longest, and most difficult trail, Sand Ridge Trail, is 6.2 miles and takes both hikers and bikers from near the entrance of the park all the way down to the North Carolina state border. For the dedicated outdoorsmen, we'd recommend navigating the entire 15.3 miles of trails in the park, where you will experience beaches of both an ocean and a bay, dunes, maritime forests, marshes, and wooded swamps, all in one visit. 

Wildlife Viewing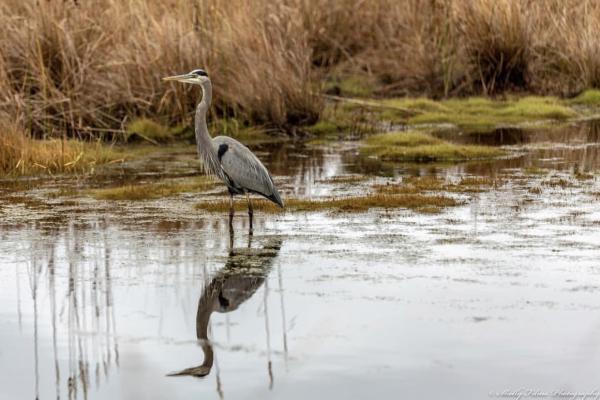 @skellyfilmsphotography, Instagram
With 9,108 acres, the refuge is made up of barrier islands, dunes, beach woodland, freshwater marshes, maritime forests, ponds and ocean beaches, and is situated on a thin strip of coastline between the Atlantic and Back Bay. Established in 1938 as a feeding and resting refuge for migratory birds, more than 300 species call the park home, which affords some of the best bird-watching opportunities on the East Coast. While this is especially true during the fall and winter months, when thousands of birds, such as snow and Canadian geese, tundra swans and a variety of duck species flock to the Bay to rest and feed before their long journey south, many species can be spotted year-round. Sandpipers, sanderlings and willets feed in the intertidal moist sand, osprey, gannets, gulls and terns can be seen fishing offshore, and sea oats, seagrass and wax myrtle cover the dunes and provide habitat for a variety of nesting songbirds. There is no shortage of waterfowl that can be spotted here.
Fat Tire Biking


@morgan_knight38, Instagram
If you think navigating a bike down our wide, sandy beaches sounds like an impossible feat, you have to try it out on a fat tire bike. From the oceanfront to the Chesapeake Bay, there may be no better view than biking along the water's edge and the wide tires of these bikes makes riding on the wet sand as easy as riding on pavement. When in the Sandbridge District, you can rent fat tire bikes from Surf and Adventure Company or Ocean Rentals LTD for a day spent exploring the beaches of Little Island Park and beyond in true local fashion.
Dining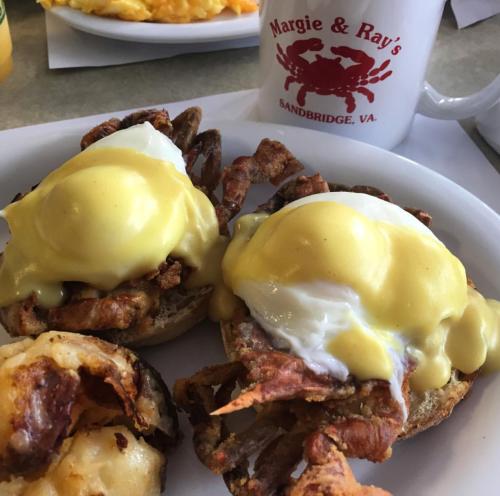 @overcalfinated, Instagram
With fresh seafood and tasty drinks, the restaurants in Sandbridge pair perfectly with the laid-back beach vibes in the area. For breakfast, enjoy a Back Bay Benedict and a cup of coffee from Margie & Ray's Seafood. A Sandbridge staple since 1964, Margie and Ray's has a seafood-centered menu that includes a she-crab soup that was voted the best in Tidewater. The freshly caught seafood and hometown feel of Margie and Ray's must be experienced by any Sandbridge visitor. 
Later in the day, grab some dinner and a BajaRita at Baja Restaurant on the south side of Sandbridge. Baja is known by visitors and locals alike for the back patio which offers beautiful views of the sunset over the Back Bay, so be sure to time your dinner accordingly. Baja hosts live music acts Wednesday through Sunday, which is the perfect soundtrack to the unbeatable autumn sunset. Or, for a meal in the comfort of your rental, you swing by Simply Steamed for one of their signature steamed pots to take back with you, including blue crab, oysters, shrimp and more!