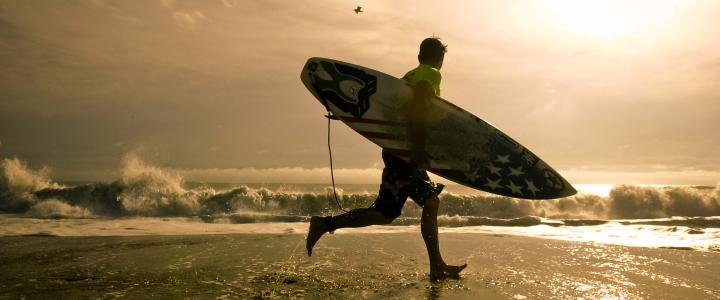 Being out on the water is one of the most refreshing and invigorating ways to get to know our beaches, and because each is so distinct, so is the type of on-the-water fun they offer. From the Chesapeake Bay to the Atlantic Ocean, you can enjoy boogie-boarding, paddle boarding or surfing to your heart's content, thanks to ample waterways, state parks and breathtaking natural wonders along the way.
Standup-paddle along the gentler waters of the scenic Chesapeake Bay Beach for sights of the pier and marina, then make a quick stop at one of the multiple dockside restaurants to take in a stunning sunset view over the Lynnhaven Inlet, while enjoying freshly caught seafood. Down in Sandbridge Beach, nestled up against the Back Bay National Wildlife Refuge, hang ten on the Atlantic Ocean facing idyllic Little Island State Park. Looking to boogie down on the water? Join boogie-boarders at the Resort Beach, as they ride the waves down to the shore, then cool off with an ice cream cone as you stroll the three-mile boardwalk.
For first-timers or those looking for some extra guidance, local outdoor outfitters at each of our three beaches can help provide guided excursions, both on the ocean and the bay, or lessons from how to paddle while standing up to how to hang ten.
So, what are you waiting for? Pick your board of choice and follow us to the beach!