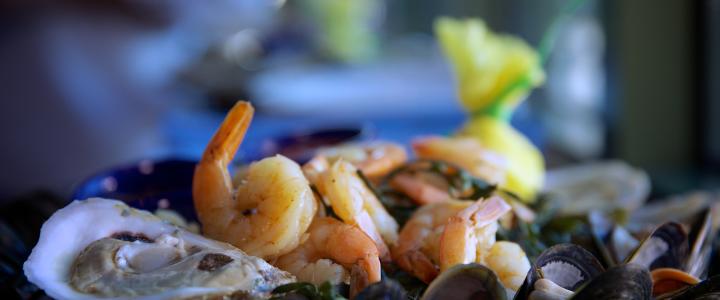 Here in Virginia Beach, we absolutely love our seafood! And how can you blame us? With the famously rich waters of the Chesapeake Bay and hundreds of inlets snaking through the city, our unique and delectable seafood is an absolute go-to for visitors and locals alike and has given us our seafood-centric culinary culture.
It's during the fall and winter months that this seafood craze gets even fresher, with December and January being the peak seasons for rockfish (striped bass), striper, black sea bass, flounder, speckled trout and blueline tilefish – all available within 50 miles! That's not surprising though, since the mouth of the Chesapeake Bay is considered to be the largest and most biologically diverse estuary in the U.S., yielding more seafood than any of the country's other 840 estuaries, making us seafood-lovers incredibly lucky.
As if those underwater creatures weren't enough, there are also oysters – beautifully harvested Lynnhaven oysters. Once coveted around the world and served to presidents and royalty for their size, saltiness and gentle zing, these delicious little bivalves are being harvested right in the Lynnhaven River, where visitors have the chance to take a boat tour of the oyster-farm and enjoy a unique Chef's Table experience right on the water – waders included!
But don't let us do all the talking. Captain John Smith himself described the bounty of the area when he spent three days in Virginia Beach shortly before establishing Jamestown in 1607, surviving primarily off fish, oysters and turtles, an experience he described what he says: "oysters lay as thick as stones," with the Bay and rivers containing more sturgeon "than could be devoured by dog or man."
With an array of seafood creatures to choose from, which will you be stacking on your plate this season?