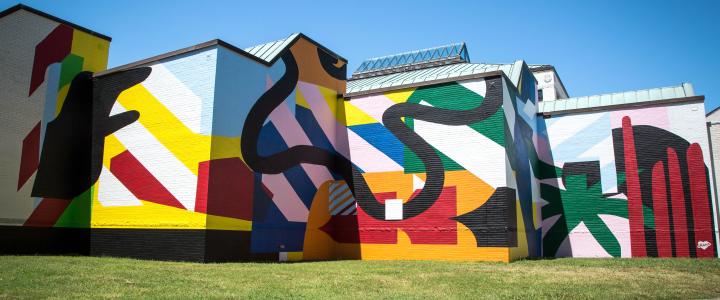 The Virginia Museum of Contemporary Art (MOCA) and the ViBe Creative District, in partnership with the City of Virginia Beach Office of Cultural Affairs, tagged internationally-renowned Irish artist, Maser, to bring Virginia Beach it's newest in a long line of public art, and he did not disappoint.  Maser has created a large mural on the back of MOCA's building (that faces I-264 heading west), and it is up now for all to enjoy.
The artist began using the moniker 'Maser' in 1995 painting graffiti on the streets of Dublin. His background in painting and graphic design strongly influences his work and his use of bold colors, simplicity of form and geometric patterns has gained international notoriety. Walls, buildings and installations across Austria, France, Slovenia, Spain, the UK and soon in Virginia Beach, exemplify Maser's relationship with color and abstract style.
Most recently, Maser opened his solo show Foreign Language at Graphic Studio Gallery in Dublin. This comes on the back of his show Orbiting on the Periphery at Lazarides Gallery in London (the gallery that famously represented Banksy), and a large installation at the Palais de Tokyo gallery in Paris.
Check it out!