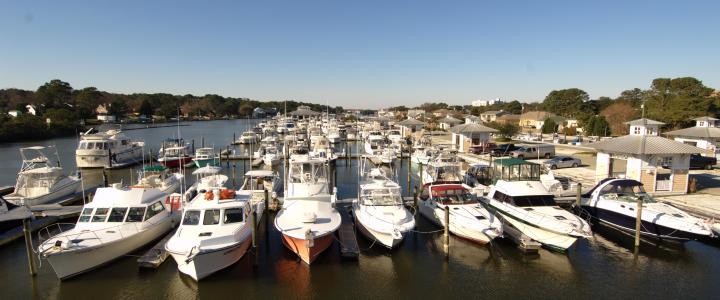 To help you get through your case of spring fever, we're keeping score on the arrival of spring by sharing some marina madness! What's that, you ask? Well, along our coast, visitors and locals alike, will find beautiful boats, delicious dock-side restaurants and aquatic adventures that are sure to help drive away the winter blues, and March is the perfect time for doing just that.
A few miles from the mouth of the Chesapeake Bay, the Lynnhaven Inlet houses several marinas and boat ramps that offer great ways for spending a day out on the water. Hop aboard Pleasure House Oysters's boat tour to learn about the legendary Lynnhaven Oyster and slurp up a few succulent bivalves and have truly a truly hands-on waterman's experience.
Sit dockside at some of our favorite nautical dive bars and take in the unparalleled views at the Back Deck and Chick's Oyster Bar, ideal backdrops for fresh seafood and drinks. End your day with a slam dunk by enjoying a sunset dolphin-watching trip from the Dockside Seafood & Fishing Center.
Just down the coast, the Rudee Inlet is constantly in a hustle with its multiple marinas. With fishing charters, jet skiing, parasailing and waterside restaurants, there are always multiple ways to pass your time in true marina fashion. Head out on a fishing charter to reel in a big one or feel the wind in your face as you glide across the water on a jet ski. You can also get a seagull's-eye-view of the Atlantic Ocean as you fly up in the air parasailing. To complete your final four, enjoy a meal overlooking the water at Big Sam's Raw Bar or Rockafeller's.                                     
Where in VB will you enjoy the big dance of Marina Madness this month?