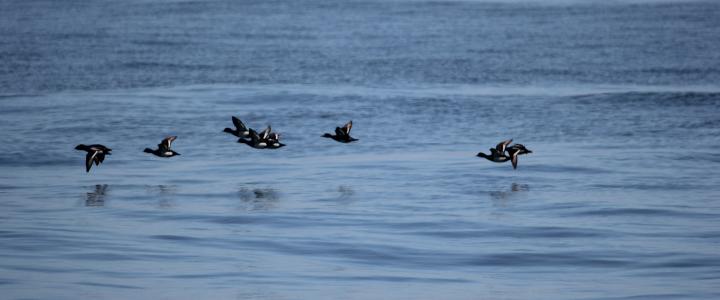 With World Wildlife Day just around the corner (March 3), we are joining in the effort to raise awareness for wild plant and animal species of the world by focusing on a local spot that is aiding in this effort year-round: the Back Bay National Wildlife Refuge. Not that we ever need a reason to visit this beautiful stretch of untouched coastline, but the time couldn't be better to take a walk on the wild side in VB this week.
Originally established in 1938 as a feeding and resting refuge for migratory birds, more than 300 species call the park home. The refuge offers some of the best bird-watching opportunities on the East Coast. This is especially true during the fall and winter months, when thousands of birds, such as snow and Canada geese, tundra swan and a variety of duck species flock to the Bay, but many species can be spotted year-round.
In addition to the large number of avian visitors each year, Back Bay is also home to many other species that crawl, swim, scurry and slither. The park, which has more than 9,100 acres of land, has a variety of habitats, including beaches, dunes, woodlands, agricultural fields and emergent freshwater marshes. Such a diverse landscape provides food and cover for animals such as river otters, white-tailed deer, mink, red and grey foxes and a huge variety of snakes and turtles. Just be sure to watch your step, as poisonous cottonmouth snakes are frequently spotted!
Few places on the East Coast offer such unique beauty and diversity of wildlife and opportunities to experience all of these wonderful creatures in their natural habitats abound. Hop aboard a tram tour, head out on a boat (or kayak) into the Back Bay, volunteer or take part in one of their educational programs, or lace up your boots and hike your way through.
The wild is calling you at the Back Bay National Wildlife Refuge. All you have to do is answer.