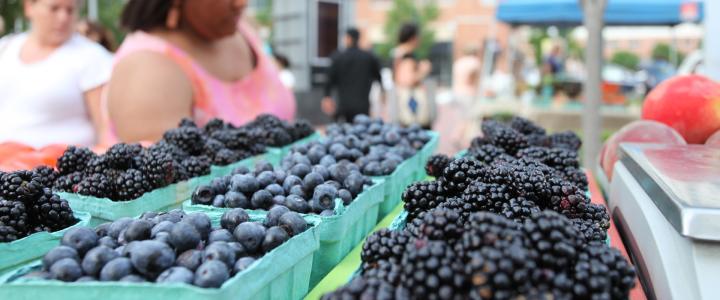 Our local rhythms, flavors and cultures have shaped our soul, inspiring locals and visitors alike to "live the life" in ways that are truly authentic to Virginia Beach. This city was built on the pride, drive and accomplishment of our locals – from winning GRAMMY's to creating the second-longest continuously running surfing contest in the world – and it's this sense of aspiration and entrepreneurship that allows visitors from around the globe to enjoy some of our homegrown offerings, year after year.
After all, we think the best way to explore a destination is by veering off the beaten path and exploring deeper. Those looking to get a taste for the authentic and often-unexpected Virginia Beach will enjoy some of our top ten homegrown picks.
Austin Custom Surfboards
Once built in a garage, these iconic surfboards are now handcrafted in a local factory, where each of the 11 models are sculpted, glassed and painted by hand before being shipped across the country.
Farmers Markets
Our year-round markets offer homegrown delights and the freshest catch of the season, as well as an opportunity to meet area artisans and browse their array of handcrafted items and gifts.
First Landing Woodworks
Take home heirloom-quality products, including bottle openers and oyster-shucking knives and furniture, made from a signature black walnut.
North End Bag Co.
Made the "old fashioned" way, these bags are sketched, perfected and sown right here in Virginia Beach, made from softly woven fabrics paired with smooth and durable full-grained leather.
Pleasure House Oysters' Oyster Farm Boat Tours
Embark on an unforgettable boat tour on the Lynnhaven River to learn about the legendary Lynnhaven oyster, see how they're grown and delight your senses by savoring the fresh bivalves from the water beneath you – waders included!
Pungo's You-Pick-It Farms
Grab a basket and pick yourself a perfect bushel of veggies, strawberries, blueberries, blackberries and even, flowers from the area's fields and farms.
Studio 17
Located in the ViBe Creative District, this gallery, working studio and event space showcases some of Virginia Beach's best artists and crafters and offers a creative space for inspiration and creation.
Tasha's Own Soaps
These natural, handcrafted goat-milk soaps are made on a 30-acre local farm, and, aside from smelling like Heaven, they help balance the skin's pH and moisturize without the use of chemicals.
The HUB Food Truck Park
Virginia's first-ever food-truck park offers a vibrant outdoor dining venue just footsteps away from the beach and features a rotating schedule of local food trucks, craft beers, artists and musicians!
Three Ships Coffee
A staple at area farmers markets, the roastery and coffee shop located in the ViBe Creative District is distinguished by its delectable, handcrafted coffee flavors, available hot or iced.