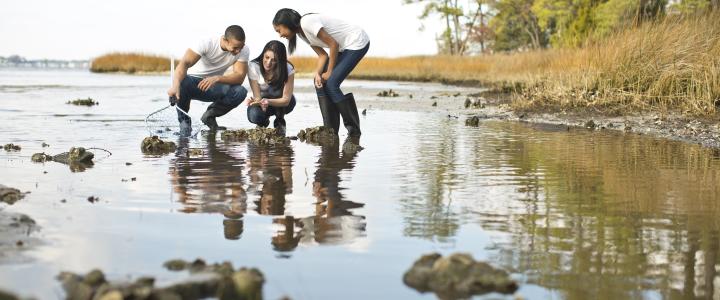 It's the season of giving, and nothing brings people together like a common cause. In Virginia Beach, we take social responsibility seriously and are always looking for special ways in which our visitors (individuals or groups) can get involved with our community. Opportunities range from improving the health of the Chesapeake Bay and working on behalf of our troops to providing care and assistance to people in need.  Do something different this year and give back to the beach!
Here's how you can join us in doing so.
Help restore and protect the Lynnhaven River by volunteering with the Chesapeake Bay Foundation. Learn about and help grow oyster beds, and much more.
Support our armed forces by collecting books or magazines for them, becoming a pen pal or assisting homeless veterans through the USO of Hampton Roads, Books for Soldiers and Vetshouse Inc.
Teach your kids the value of recycling by having some fun. Count up how many items you're able to recycle from your vacation, using our recycling bins conveniently lining the Resort Beach
Dine with a purpose, and support our sustainable restaurants that help give back to the beach
Help protect sea turtle eggs from surrounding prey by "nest-sitting" at the Back Bay National Wildlife Refuge
Collect the hotel soaps from your stay and donate them to the homeless at the Judeo-Christian Outreach Center (JCOC) on your way out of town
While packing for your vacation, ask your kids to collect loose change and make a donation to the Virginia Aquarium's Conservation program
There is so much we can do to help make our world a better place, and Virginia Beach is a great spot to start. With varying commitment levels, there's a perfect opportunity for everyone. What will you do to make a difference?