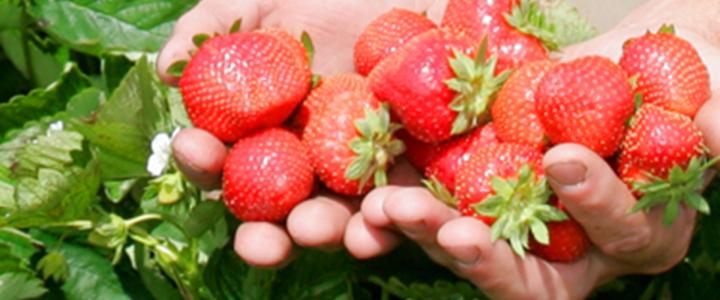 When you think of Virginia Beach, you probably think of sand, sun and surf, but did you know we're also home to a vast amount of farmland and fresh local produce, all available for you to explore – and pick – year-round? Yes, you can easily go from beachside to countryside within 15 minutes!
Our Pungo community, adjacent to Sandbridge Beach, is home to 8,000 acres of farmland, including 16 You-Pick-It farms. Depending on the season, you can pick your own bushel of strawberries, blueberries, blackberries, kale, cabbage or even your own bouquet of wildflowers! Here, we especially love strawberries, a staple crop, which is now celebrated annually with the Pungo Strawberry Festival. Stopping by Pungo's roadside stands or exploring one of the area's working farms makes for an adventurous family outing and is a great alternative for getting away from the beach.
Kick your pickin' up a notch by getting your hands dirty at New Earth Farm, a sustainable, organic and educational working farm. Learn to make cheese, kombucha, sheer sheep and more during their regularly scheduled classes or sign up for cooking classes led by some of the area's top chefs at the farm's Food Lab to learn how local ingredients come together to influence Virginia Beach's culinary scene.
Be sure to visit our year-round farmers markets as well for freshly picked Pungo produce as well.