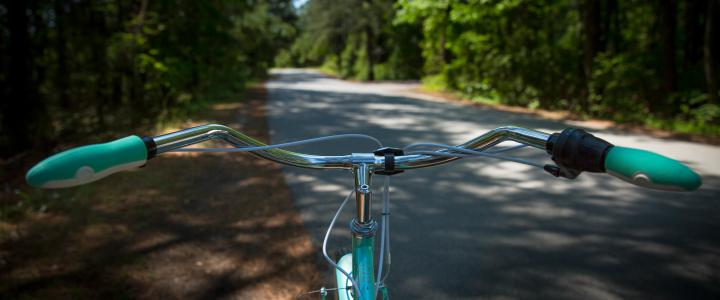 With it being Great Outdoors Month throughout the Commonwealth of Virginia, June is the perfect time to get outside and explore the natural beauty of Va Beach. Sure, you could hop in the car and make your way down Shore Drive, through the shaded beauty of First Landing State Park, or explore the back roads of the sprawling Pungo area, but you can drive a car anywhere. For a true local experience and a great way to take in the natural beauty of our town, we suggest leaving your keys at home. These are our favorite ways to get out and get around in Virginia Beach.
At the Boardwalk – The Virginia Beach Boardwalk was built with cyclists in mind. With separate bike and walking paths, bicyclists can ride their beach cruisers along the coast without having to dodge pedestrians or cars. For a classic Virginia Beach adventure, rent a four-wheeled surrey bike and work as a team with your entire family as you pedal full-steam ahead. With rental stations all along the boardwalk, you can come right off the beach and hop aboard.
On the Water – With the profusion of waterways that run through Virginia Beach and feed into the Chesapeake Bay and Atlantic Ocean, there may be no better way to view Va Beach than by floating right through it. Rent a kayak or standup paddleboard and explore one of the last great salt marsh habitats on the East Coast. You can even take a guided tour to make sure you see it all. 
At the Park –  For those looking to keep both feet on the ground, you can channel your inner explorer by hiking through the state parks located right here in Va Beach. First Landing State Park, Back Bay National Wildlife Refuge and False Cape State Park each offer miles of trails on which to hike and beautiful views of our areas maritime forest community. Just lace up your shoes and hit the road.
However you choose to experience the natural wonders of Virginia Beach, we are sure you'll love every minute of it. So get outside and get moving – there's so much to explore!