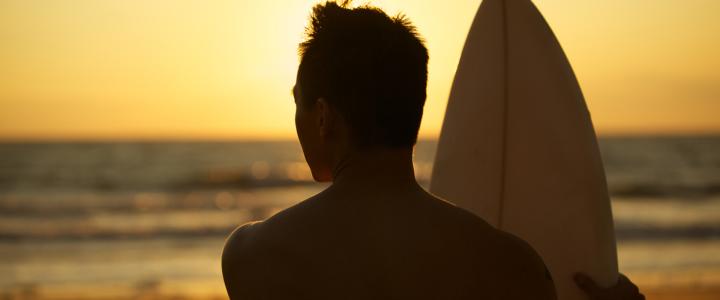 We're not just talking about fun here. We're talking about the type of fun that can only be had in Virginia Beach, thanks to our nautical nature and proximity to some pretty fin-tastic offerings.
Feeling adventurous? Grab yourself a handmade fin – of the surfing kind – from Austin Surfboards before signing up for surf lessons at Surf & Adventure, or feel the adrenaline vicariously as you watch the professionals in action at the annual East Coast Surfing Championship. Fins down!
Those who prefer fins in the form of flippers have a couple options for getting up close to marine life. Book a Virginia Aquarium Sea Adventure or a dolphin-watching cruise aboard the Rudee Flipper to spot dolphins feeding and frolicking in the ocean. In the winter months, embark on a whale-watching boat tour to spot whales migrating south to tropical waters, December through March. For more intimate fincounters, book an ocean kayaking excursion for your chance to paddle alongside a pod of dolphins, or head to the Virginia Aquarium for a behind-the-scenes and up-close-and-personal encounter with harbor seals.
Sounds fin-tastic to us!