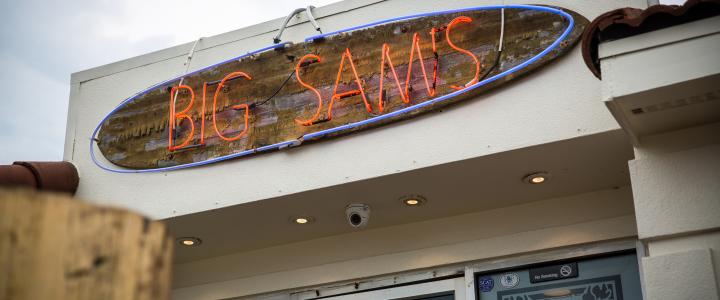 October is rapidly approaching, which means the time of year that we've been waiting for since Memorial Day is finally here. While most people look to the first full month of fall as a time of football, technicolored trees and all things pumpkin spice, here in Virginia Beach, those all merely act as the supporting cast to the true star of the season: seafood! During National Seafood Month, we're celebrating as the locals do by hitting up some of the most satiating seafood shacks in town. Here are some of our favorite dives around town at which to enjoy the fresh bounty of the bay, without all the bells and whistles of fine dining.
Tucked away within the Rudee Inlet, Big Sam's Inlet Café and Raw Bar is a favorite among locals and visitors to the Oceanfront alike. With the Virginia Beach Fishing Center next door, you'd be hard-pressed to find fresher seafood. For a hearty meal that pairs nicely with the serene marina views, give the jumbo lump crab cake sandwich a try. Made with 100 percent local blue crab, this sandwich delivers a taste of VB in every bite.
When you're living it up island-style in Sandbridge, there are quaint seafood dives aplenty to satisfy your wish for fish. Stop by Margie & Ray's Seafood Restaurant or Baja Restaurant for a laid-back local vibe where fresh seafood is always in season. While both spots are dishing out a wide variety of coastal cuisine served every which way, you can't go wrong with the fresh catch of the day at either venue. They waste no time in getting their catch from the water to your plate, and, trust us, these people know how to cook a fish!
Those who prefer to head into autumn by land and by sea can tie your skiff up at Dockside Restaurant and Marina, located within the Lynnhaven Inlet in the Chesapeake Bay District. When they say they're serving up the freshest seafood, they mean it. You can't go wrong at their raw bar, offering both Lynnhaven and Eastern Shore oysters and, of course, Chesapeake Bay blue crabs, deliciously paired with a glass of wine from their in-house wine shop.
These shacks by the sea are serving up fall feasts fit for King Neptune himself. As the temperatures cool, the seafood scene in Virginia Beach is heating up. So, dive right in; the season for all things steamed, fried and on the half shell is finally upon us!