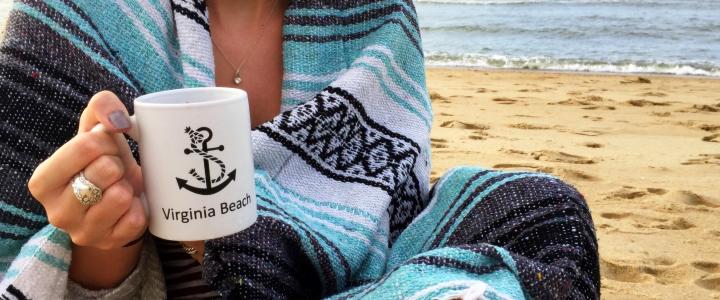 We find ourselves day-dreaming of warm blankets and hot coffee – local brew that is. We are incredibly lucky to have some the most passionate and dedicated coffee houses in the area.  There have been quite a few to pop up recently (welcome!), along with longstanding local faves, all with the same shared passion for producing artisanal  coffee.
Three Ships is not only a local coffee house but also a local roaster, meaning that they do everything with an artistic hand, in-house.  Their name pays homage to local history and the mighty, adventurous spirit of the first settlers in our area. Their creative and classic beverages are perfect to enjoy inside of their comfy nautical shop or for grabbing it to go, then heading out to First Landing State Park for a hike. Sounds like a pretty epic way to spend a morning! Just a quick drive away, Roast Riders has quickly become a destination hangout spot for locals, where their chic causal interior entices you to cozy up with a sweet treat and stay awhile.  Small batch beans is their passion and it shows through in all they serve. Hitting the shopping scene at Town Center? Your visit wouldn't be complete without a trip to The Daily Grind to add some pep to your step. After shopping, hit the bar – the coffee and espresso bar, that is, at Moka Café, where you can even order a mokatini, or hop over to Java Surf Café, just a few steps away from the beach. Coffee lovers who aren't necessarily embracing the cooler weather can enjoy a cup of kona coffee while feeling as though they're in a tropical paradise at Bad Ass Coffee. Those looking for a vintage coffee-house vibe (with a side of their cult-hit tuna poke bowls) will find Zeke's Beans & Bowls is the place to be. Just minutes away from the Resort Beach, heading there for a pour-over single-serve coffee on a beach cruiser is the way to go. In fact, here, it's the way to go!
You know where you'll find us cozying up this fall. We hope you'll join us.