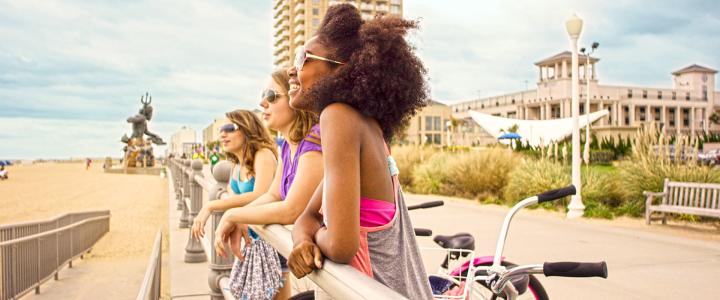 Visitors have the chance to travel along the Atlantic Coast experiencing three distinct beaches – all without ever leaving Virginia Beach!
Along the Chesapeake Bay, the Chesapeake Bay Beach is a favorite among locals for its multitude of dockside restaurants, laidback vibe, perfect location for catching the sun rise and set and its gentle, shallower waters, ideal for relaxing on the shore or paddling out to where dolphins have been known to make a cheerful appearance. A quick drive to the south is the area's most recognizable beach, the Resort Beach, which is home to King Neptune, a 34-foot-tall cast bronze statue of the mythological sea god, the iconic three-mile boardwalk and the Rudee Inlet, in addition to hotels, restaurants, shops and nightly entertainment. To the south, Sandbridge Beach offers an island-like pristine environment, surrounding by farm land, state parks and wildlife. Beautiful and expansive vacation homes line the shore, making it an ideal spot for families and large groups. With a secluded beach atmosphere and access to Back Bay National Wildlife Refuge and False Cape State Park, Sandbridge offers countless opportunities for outdoor excursions.
Whether you want to experience the bay life, the resort life or the island life, you'll find the beach that fits you, right here in Virginia Beach.