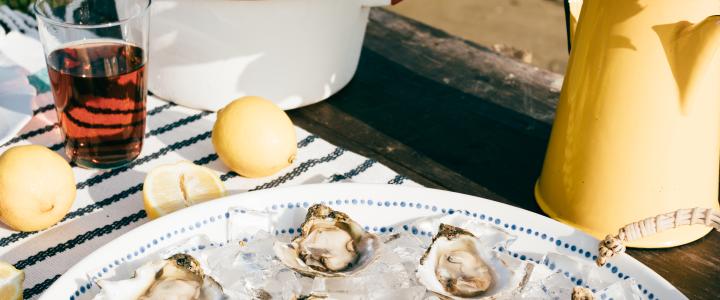 Virginia Oyster Month is finally upon us, and we couldn't be more excited to celebrate. Once coveted by the English aristocracy for its size and salinity, the famous Lynnhaven oyster is a local legend that we can't get enough of, no matter the season. When people typically think of November, they think of turkey, stuffing and cranberry sauce, but in Virginia, the salty bivalves reign as kings!
Local ostreophage (oyster lover) and oyster farmer extraordinaire, Chris Ludford, owner of Pleasure House Oysters, is cultivating the Lynnhaven oyster and bringing it back to its days of royalty. He harvests and handcrafts a small-batch on the farm, which puts him in rare company. The amount of care and attention that each individual oyster gets shines through in its complex and divine flavor profile. From seed to plate, this process takes two years, and Chris is there every step of the way to nurture their growth and to make sure he is producing the best oysters he possibly can.
Be sure to celebrate November like the locals and sip and slurp down some of these delicacies at local restaurants, including Terrapin, Commune and Zoe's Steak & Seafood. We'll see you there!