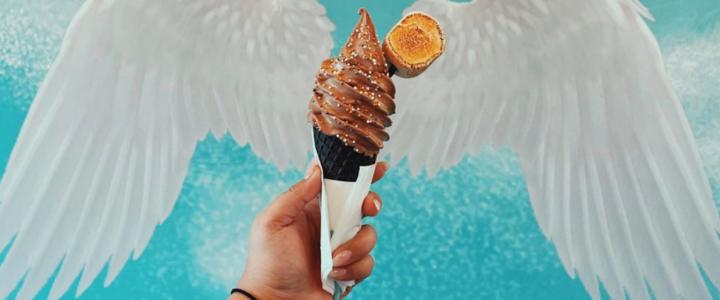 There may be no better pairing than a warm day and a scoop or two of your favorite ice cream. Mix that with the wide sandy beach and the ocean breeze and you have all the essential staples of a perfect early summer's day. From ice cream flights to creamy, custardy gelato, there is no shortage of ways to satisfy your sweet tooth. With these spots offering curbside pick-up, as well as some offering delivery, here are a few ice cream spots of which we can't get enough right now in Virginia Beach.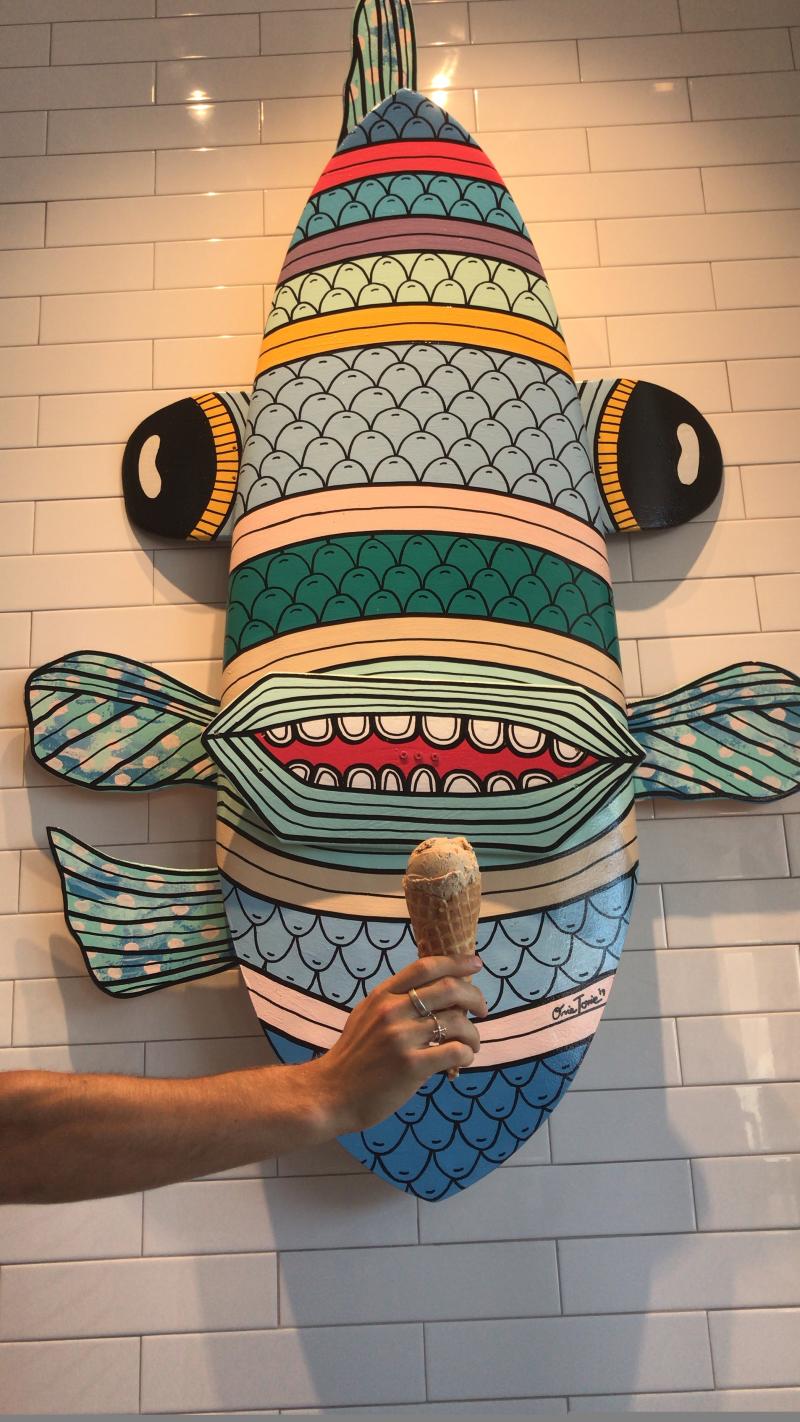 With the addition of Blue Cow Ice Cream Co. to the Chesapeake Bay District, we now have the perfect spot to frequent after a day at Chick's Beach. With a huge variety of creative flavor combinations, like Goat Cheese with Blueberry Swirl, Strawberry Balsamic, and Sea Salt Brickle with Caramel Swirl, it's hard to choose just one. Luckily, with their ice cream flights, featuring four flavors of your choice, you don't have to. For coffee fans, make sure you try their Three Ships Coffee with Chocolate Chip, made with Three Ships Coffee, roasted and brewed right here in Virginia Beach.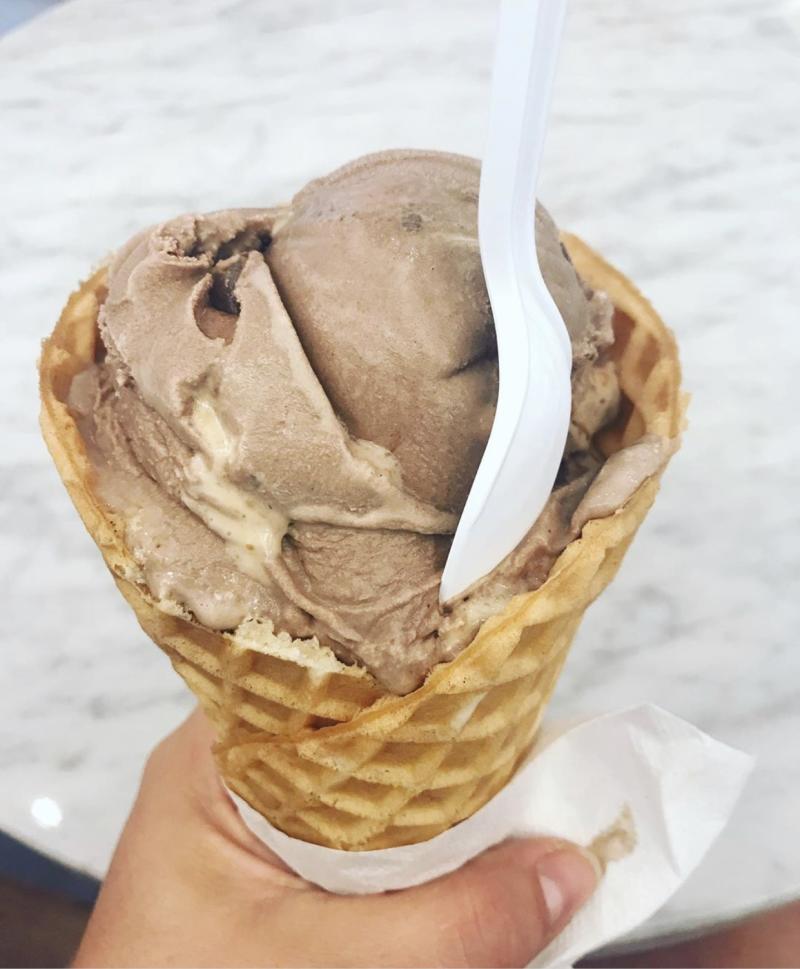 @a.jilek89, Instagram
Located in the Hilltop Area in the Inland District of Virginia Beach, Richmond-founded Gelati Celesti makes their ice cream with techniques normally reserved for gelato, making for a denser ice cream with a custard-like richness. Offering rich, decadent flavors like Salted Caramel, Birthday Cake, and, our personal favorite, Chocolate Decadence, this shop will make your taste buds sing. While they have many house favorites always available, Gelati Celesti rotates through more than 85 flavors throughout the year, using fresh, seasonal ingredients whenever possible, so this place will keep you coming back for more.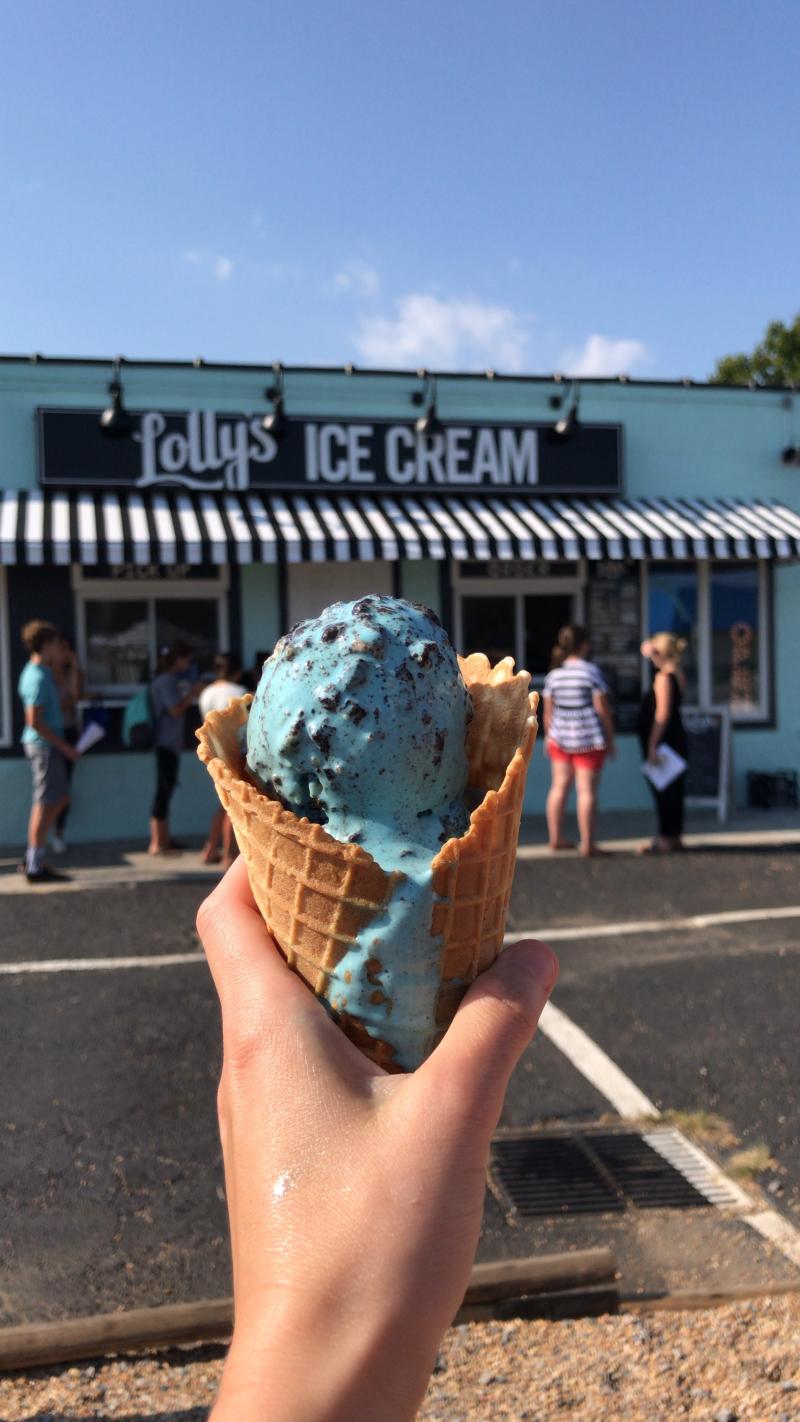 @lollyscreameryandsoupco, Instagram
With Lolly's delicious homemade rotating flavors like Pungo Strawberry Ice Cream, White Chocolate Raspberry, and Cookie Monster it's no wonder this local shop has quickly become a Virginia Beach staple. Starting as a delivery service, Lolly's has recently opened up a brick and mortar shop right in the heart of the ViBe Creative District, near the Oceanfront, and we can't get enough. While all their flavors are worth a try, with new flavors being rotated in regularly, Lolly's has received quite a bit of attention for their vanilla flavor. Sometimes simpler is better, and Lolly's does simple to perfection. And don't forget to listen for the bells of their Joy Bike coming down the boardwalk to delivery ice cream throughout the summer season, as well!
Inland District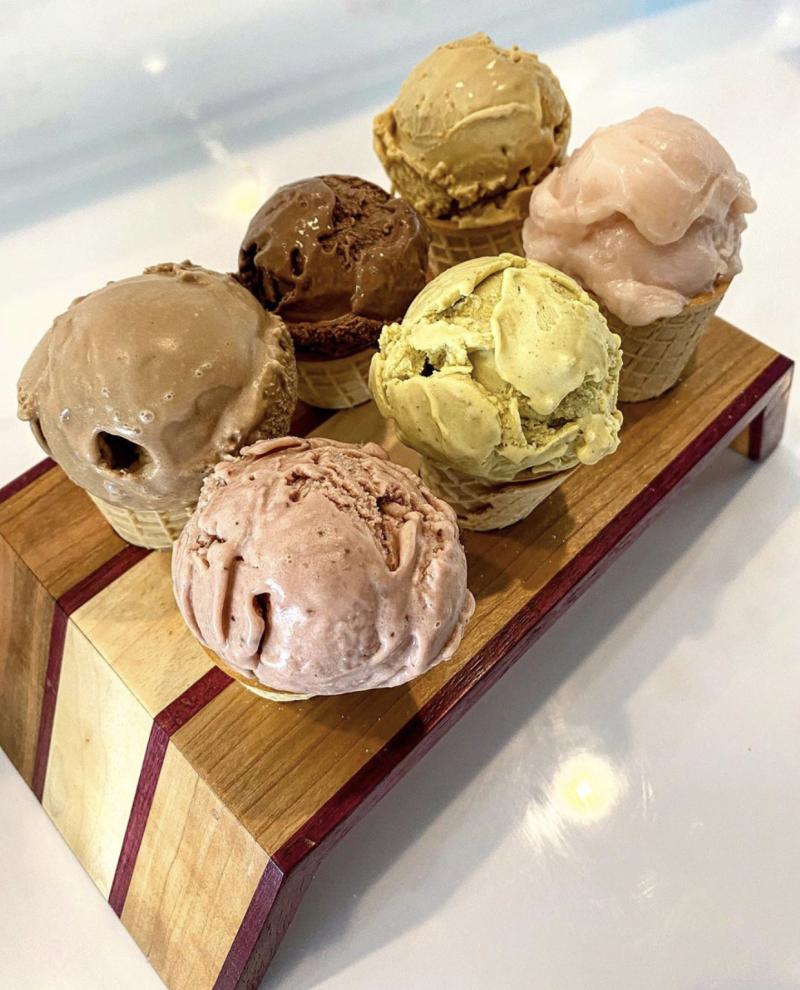 @captureyourappetite, Instagram

Located in the Hilltop Area of the Inland District, Gerald's Ice Cream Bar comes from the culinary mind of one of the founders of Terrapin Restaurant. This small-batch shop is churning out custard-based ice cream that is flash-frozen with liquid nitrogen, making for a consistency that is both dense and smooth. With flavors like Burnt Honey Vanilla, Pistachio with Goat Cheese, and Pungo Peach, this shop is always offering something new a creative to keep you stopping in for more. For the dedicated ice cream connoisseur,  try the ice cream flight, which offers six flavors, cones included.
Inland District

@shorelandteam, Instagram
Aqua S, the trendy Australian ice cream shop, has now made its way to Virginia beach and we're all better off for it. Serving up exclusively soft-serve, the unique qualities of Aqua S don't stop there. With flavors like popcorn, margarita, lychee, and elderflower swirled with their trademark sea salt soft-serve, and all on ink black cones, this place is a total sensory experience that you have to try.
Inland District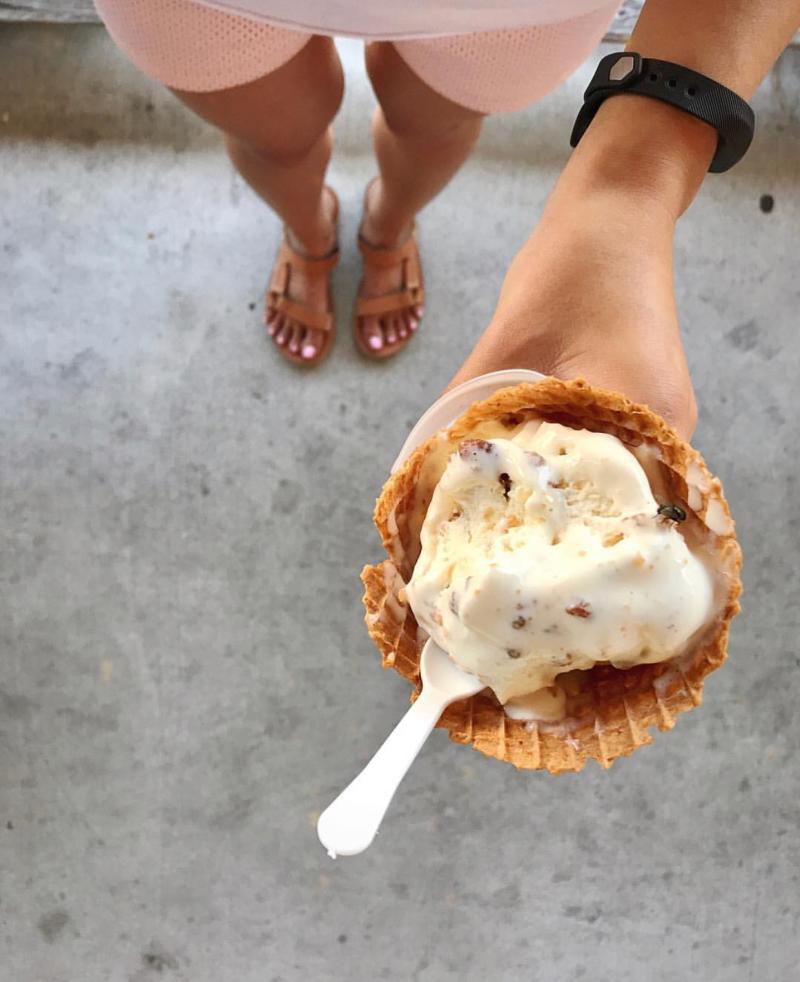 @ktfrek, Instagram
Located within the artisan shops and handcrafted goods of the Virginia Beach Farmers Market, Gilly's is scooping out old-fashioned ice cream done right. Made with fresh milk, this is ice cream the ice cream we've been enjoying for decades, and it always hits the spot. Gilly's is a hidden gem that we keep coming back to, time and time again. With an ever-changing list of flavors like Mom's Apple Pie, Orange Creamsicle, Moon Pie, there's always something new at Gilly's for every ice cream fanatic.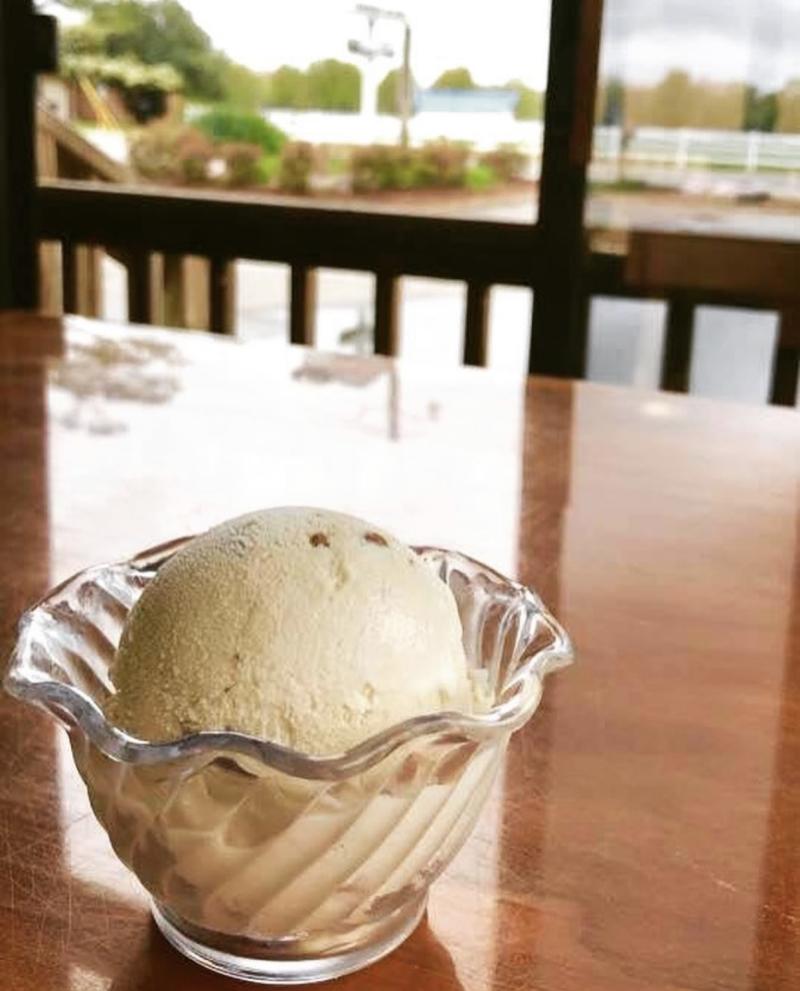 @pungopizzaandicecream, Instagram
This house-made ice cream served out of the Pungo Agricultural District, is as fresh as produce from the surrounding farmland. They offer seasonal flavors like Blueberry Cheesecake, Coconut Chocolate Almond, and Peach, so there's always something new worth trying here. Come for a sweet treat when you're in the Pungo area and stay for a slice of their amazing pizza.
Cover image: @newyorkscoops, Instagram