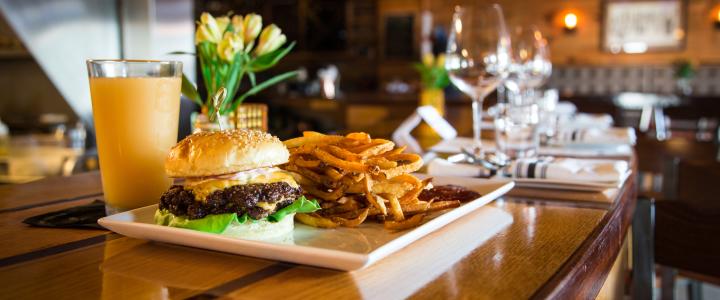 Ask any devoted local, in any great city, what the best burger in town is and they will most likely be able to answer without hesitation – and without the slightest mention of a golden arch. The reason for that is quite simple: cheeseburgers might just be the perfect food. The lightly toasted, buttery bun, the juicy beef (lightly crisped on the outside and succulent on the inside), the cascade of melty, cheesy nirvana spilling over the sides, the crisp, refreshing bite of fresh vegetables…. and this is all just in one bite! It's a hard meal to beat, no matter where your travels take you. Think of Virginia Beach for our blue crabs and fresh catches of the day all you want, but overlooking this American powerhouse would be a huge mistake. Luckily, we have your back with a few of our favorites; so, next time someone tells you they just want a good cheeseburger for dinner, you'll know exactly where to take them.
Hearth - Thursday Night Smash Burger
We're kicking off our list of burgers at Hearth, one of our favorite pizza joints in town. Why not? Every Thursday night, Hearth, in the ViBe Creative District, offers their famous Smash Burger, a 60/40 blend of ground ribeye, chuck and house-cured bacon, shaved red onion, bibb lettuce, their "fancy" sauce and bread and butter pickles, all on a homemade brioche bun and with a side of fries. Who knew these dough-slinging experts could grill up such a mouthwateringly delicious burger? Add in a beer menu filled with great local and regional brews, and Thursday night burger night is our new favorite weekly tradition.
Repeal Bourbon & Burgers - The Prohibition
A local favorite for many burger and bourbon aficionados alike, this speakeasy-style joint in the oceanfront does not disappoint in either department. Start your visit off with an expertly crafted Old Fashioned, with your choice of whiskey, bitters and garnish, before sinking your teeth into the main course. Sticking with the mood of the evening, we recommend The Prohibition, a perfectly made beef burger topped with Surry County Bacon, cheddar and Swiss cheeses, a classic assortment of fresh veggies and topped with a free range over-easy egg. This burger is so good, we think it calls for a celebratory second cocktail – perhaps a Manhattan this time?
Eat: An American Bistro - The Hasselhoff
If you haven't seen the infamous video of David Hasselhoff eating a cheeseburger, then you may never fully understand the nirvana this staple dish can inspire. Luckily, Eat's tribute to the Hoff will get you pretty close. One bite of this burger, with Wagyu beef, pickles, lettuce, tomato, delectable truffle mayo and a smothering of melted Cotswold double Gloucestershire cheese and you may soon be expressing your love for the food on camera for the world to see, too – although, we'd strongly recommend against it.
Sometimes, you just have to have a juicy burger and a side of fries. We get it, and we totally understand. Next time, skip the drive-thru and take a bite out of the indelible VB food scene and enjoy your cheeseburger in our little paradise.