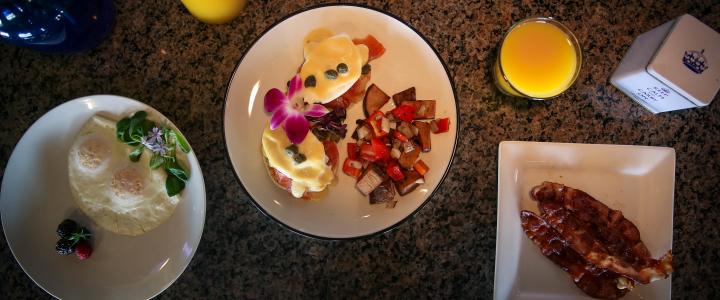 Whether you're excited by the gleam of a new dawn or still coping with the fact that you're awake after a late night out, there is no better way to begin your day than with a feast that only Virginia Beach can provide. No matter which of our three beaches you are enjoying, rest easy, because brunch is served!
For soul-satisfying fare that gives a nod to our Southern culinary roots, look no further than the Resort Beach, where you'll find Doc Taylor's. This one-time doctor's home serves up delicious comfort breakfast and lunch food, Bloody Marys and mimosas. This spot is such a locals' favorite, that the menu features several items named for regular customers. When you're living the island life in Sandbridge, stop by Margie and Ray's for the Back Bay Benedict. Served with two crab cakes instead of the traditional Canadian bacon, this is a mouthwatering local twist on a classic brunch staple. If you're near Chesapeake Bay Beach, head to Dish Restaurant and dig into fresh, seasonal food inspired by Swedish and new American cuisines and crafted from locally sourced ingredients. Treat your taste buds to the house-cured Venison Benedict Florentine or the tasty Swedish pancakes, with Chantilly whipped cream and fresh strawberries, for a sweet start to your day.
Raise your mimosas high to our favorite meal of the day. With so many great brunch spots from which to choose, you can't go wrong at any of our beaches -- no matter what time you roll out of bed.