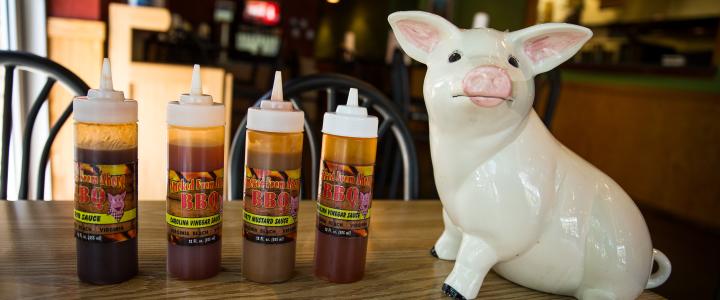 We admit it – we like to play with our food! We don't know what it is, but there is something instinctively satisfying about forgoing the traditional knife and fork and diving in with reckless abandon. From the sticky fingers to the sauce-covered faces, the barbecue in VB is as fun to wear as it is to eat. As the summer rolls on in the Resort Beach, the BBQ pits are heating up, so let's dig in!
Good barbecue comes in many different forms, and in Virginia Beach, we have a little bit of everything. For many, summer isn't summer without a heaping plate of fall-off-the-bone ribs, and the racks at local favorites Smoked from Above and Frankie's Place for Ribs will not disappoint! If you prefer to stay moderately clean, a sandwich might be your route to BBQ nirvana. The Burnt-Ends Sandwich at Whitner's Pit- Smoked Barbecue is a can't-miss VB staple that was featured on the Food Network series "Diners, Drive-ins and Dives." The perfect blend of sweet, spicy and succulent, the beef is dressed in a homemade sauce and roasted in-house for 12 hours, until it practically melts in your mouth. For a taste straight from our neighbors to the south, the Carolina-style pulled pork sandwich, with a vinegar-based sauce, from Beach Bully Bar-B-Que Restaurant is tangy and delicious. Although it comes on the side, we suggest adding the coleslaw directly on to the sandwich – trust us on this one!
So, roll up your sleeves, put on your bib and don't forget the wet wipes. It's about to get messy!