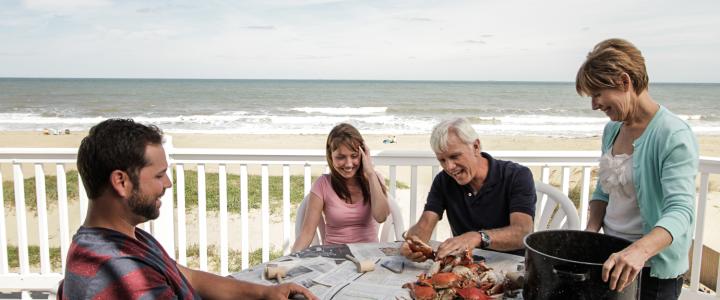 Dancing sea oats, a soundtrack provided by nature and a local atmosphere: signs that you and your family are on an island far, far away – but really, you're just planted 15 miles south of the Resort Beach. Seriously!
Sandbridge Beach is a secluded hideaway featuring pristine sand dunes, only the freshest and most delicious blue crabs and 16 You-Pick farms. Nestled between the Atlantic Ocean and the Back Bay National Wildlife Refuge, it's no surprise we think of Sandbridge as the best spot for living the "island life."
In fact, it might be our favorite beach for enjoying this time of the year and ringing in the holiday season. This Thanksgiving, encourage your family to slow down, unwind and catch up on the busyness of everyone's lives. From quaint beach bungalows to an ocean-side retreat, luxury condos and everything in between, we have a variety of stunning beach house rentals for families of all sizes. Make it a family culinary affair and pick the freshest fruits and vegetables from our local farms to prepare a delectable Thanksgiving dinner – and maybe even bring home a pumpkin or two! One can never have too much pumpkin pie, after all. Seafood lovers, don't forget to fill your plates with our legendary Lynnhaven oysters and Margie & Ray's blue crabs (a local favorite!). We can't think of a more enjoyable feeling than to sit around the dinner table alongside family, enjoying a handcrafted and locally sourced feast. Yum!
An island life Thanksgiving is sure to be one for the books and is sure to impress everyone – even tenacious grandpa!