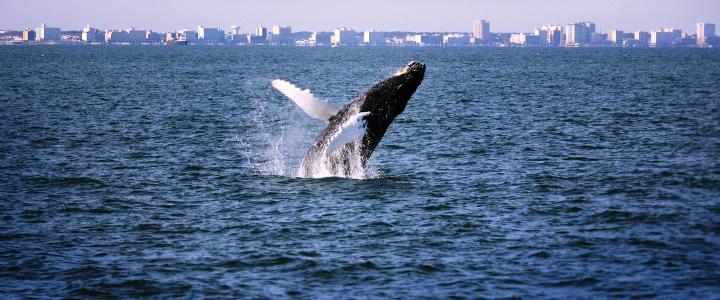 Things are getting wild! During the winter months, we happily provide travelers with mild temperatures, stunning sunsets, smaller crowds and an array of incredible wildlife, making for an unforgettable winter tale.
Sit back, cruise and whale-watch for an unforgettable experience, with views of the world's largest and most beautiful marine mammals. Book a Rudee's Winter Wildlife Whale-Watching Cruise or hope aboard a Whales & Wildlife Sea Adventure at the Virginia Aquarium to be led on an educational expedition along the Atlantic coast, searching for whales, dolphins, seals and a variety of species of birds. We really hope that on your tour, our aquatic gentle giants decide to show off by breaching, flipper slapping or tail-lobbing. Be sure to have your camera ready, because it's such an incredible and breathtaking sight!
Because whales migrate based on water and air temperatures, it's difficult to determine a "peak season" for whale-watching. While the prime months for sightings are typically January-February, whales have been spotted in large numbers as early as December. Give Rudee or the Virginia Aquarium a call to see if they've spotted any whales yet. It's true that if they've already been spotted for the season, you're more likely to see them on an excursion – they like to hang around with each other!
Be sure to share your photos of your wild winter tale using #visitvabeach, and if you're feeling wildly witty, use this joke on your friends, too.
How do you make a fish laugh?
Tell a whale of a tale.