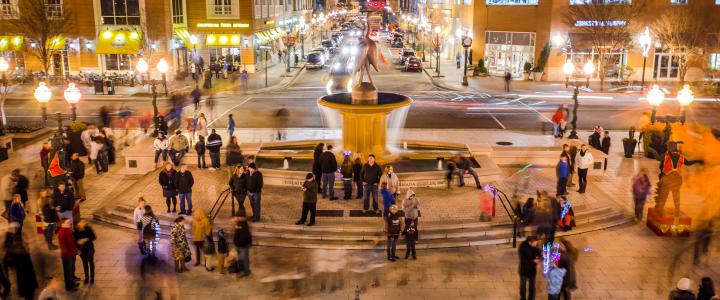 Living the life is more than just enjoying our beaches. It also means heading downtown to our thriving metropolitan district, located just a short drive from the Resort Beach!
With 19 restaurants, six options for sweet treats and approximately 17 shops, the Virginia Beach Town Center is continuing to bring topnotch downtown destinations experiences to locals and visitors alike. Spend a leisurely afternoon shop-hopping through Antropologie, Paper Source, lululemon and Free People, among many others. After finding your summer dress, winter coat or cosmetics, it's time for a delicious pick-me-up from The Royal Chocolate and a gourmet coffee or cold-pressed juice from The Daily Grind. After an afternoon spent strolling, cap off the day with an alfresco experience, noshing on Southern comfort food at the newly opened Tupelo Honey Café, or sip on an evening glass of wine at Sonoma, where you'll have more than 400 different bottles of wines to choose from!  We recommend wrapping up the night with belly laughs from a comedy show at The Funny Bone or heading over to the Sandler Center for the Performing Arts for a night of live entertainment.
How's that for the best of both worlds?