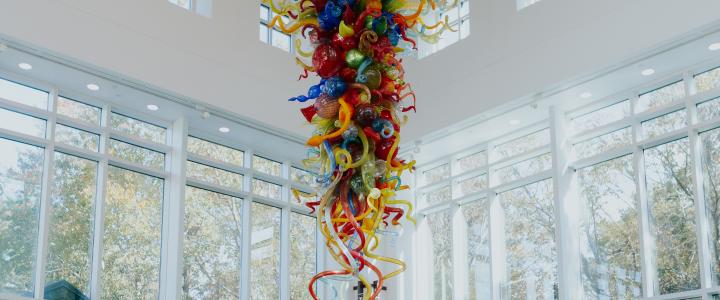 The Virginia Museum of Contemporary Art (MOCA) is an exploration of the masterpieces of today by artists of regional and national notoriety. With regularly changing exhibits, there is always something new to see, but that is not all that the museum has to offer. Here are five MOCA staples we think you can't miss.
Mille Colori (1,000 Colors)
This breathtaking 14-foot glass chandelier by renowned artist, Dale Chihuly, hangs as a permanent fixture in the sunlit Rodriguez Pavilion, which was built specifically to hold the modern masterwork. Made up of 520 separate blown-glass pieces, cleaning the chandelier is an artistic endeavor in its own right!
New Waves Exhibit
Comprised solely of works of art by Virginia-based artists, New Waves is a great demonstration of the level of talent coming out of the Commonwealth, including some from right here in Virginia Beach. Though the artists represented are chosen by a jury on an annual basis, New Waves is a mainstay exhibit that always impresses.
Outdoor Sculptures
Don't miss the walking tour of these weatherproof wonders for a perfect selfie opportunity with a modern twist.
Art Lab
The Art Lab is a fun, creative space to learn the techniques that went into creating the current exhibitions and to roll up your sleeves and try them for yourself.
Art Classes
Offering classes for kids (2-12), teens (13-17), and adults (18 & up), MOCA's classes offer the opportunity to explore drawing, painting, printmaking, ceramics, digital photography, fine crafts and more from professional regional artists and educators throughout the week. They also offer family classes for everyone to get in on the creative fun together.