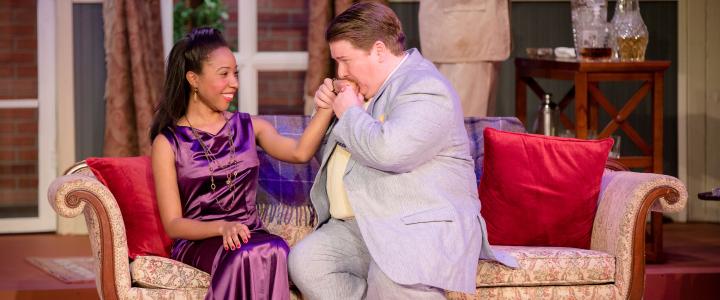 Whether in search of something different for your date night, or just looking to sit back, relax and enjoy the show, there are several options in Virginia Beach for an evening stage show that anyone will enjoy. From the new Zeiders American Dream Theatre and Sandler Center for the Performing Arts at Town Center, to the Little Theatre of Virginia Beach at the Oceanfront, here are a few evening shows this summer that you won't want to miss.

Don't' Dress for Dinner
Little Theatre of Virginia Beach
May 18 - June 10
Don't Dress for Success, the wildly funny comedy by Marc Camoletti and adapted for stage by Robin Hawdon, opened on Broadway in 2012 after running in France and London for six years. Now this summer, the play is coming to the Little Theater of Virginia Beach, which is just steps away from the Virginia Beach Oceanfront and features Broadway-quality shows with local talent. The play centers around Bernard and Jacqueline, a not-so-happy married couple who both have extramarital affairs, making for an evening of hilarious confusion when they all arrive to dinner together.


Black Jacket Symphony Presents The Eagles' "Hotel California"
June 15
At the Sandler Center located in the Town Center of Virginia Beach, The Black Jacket Symphony is performing a unique concert experience by recreating the Eagles' "Hotel California" album and a selection of their "greatest hits" in a two set, live performance. The sets, performed by hand-selected musicians doing whatever it takes to musically reproduce the albums, are paired with an incredible light display designed to emulate a rock and roll show - one you won't want to miss!
June 23
Award winning singer, songwriter and storyteller Mitch Barrett draws from his Appalachian heritage with a stage show that is a mix of Funk, Folk, Blues, and Reggae. The newly opened Zeiders American Dream Theatre located in the Town Center district will host the 2009 Telluride Troubadour and two-time Merlefest winner for one night only this summer.
Hairspray
Little Theatre of Virginia Beach
July 13 - August 15
Hairspray, one of the most widely produced musicals and the winner of eight Tony Awards, is coming to Virginia Beach this summer. The popular family-friendly musical by Marc Shaiman and Scott Whittman is about teenage Tracy Turnblad's unlikely brush with fame and her influence to advocate racial integration in television, set in Baltimore in 1962.